Spotify is a popular music streaming app that has over 500 million users in April 2023. Still, there are some problems down the line which lefts users wondering 'Why does my Spotify keep stopping,' or 'Why is my Spotify pausing?'
Well, this is a general problem faced by many users, even the premium subscribers complain about the same. I was listening to Euphoria's playlist from my Spotify Wrapped, and the app stopped randomly with a notification that said the app had stopped responding.
After this, all I could see was a black screen with the logo on it. If you are also facing a similar issue, worry not, I got you covered. You can fix your randomly stopping Spotify with the nine fixes listed below. If you are also wondering this spotify: Bollywood Songs Removed from Music App then this tips will help you.
Why is Your Spotify Pausing?
But unfortunately, the app has failed to stick to the promise of uninterrupted music and left its users, especially premium subscribers questioning why is my Spotify pausing.
If you are facing a similar problem and want to know why Spotify keeps pausing, read along to know the reasons behind this issue.
Data Saving Mode

Data saver mode and poor internet connection may be the reason Spotify randomly stops.
Someone Else is Using Your Account

A friend or someone from your family may be unknowingly listening to music using your Account.
Insufficient Storage

Spotify needs space for streaming music, and songs will randomly stop if your device has insufficient storage.
Corrupt SD Card

When your SD card in the phone fails it results in read-and-write errors causing the app to stop randomly. Additionally, your SD card may not be recognized as a storage device anymore which also leads to such errors.
These are the main reasons that may hinder its working and won't let you groove on your favorite album. Moving further let's see the troubleshooting methods to fix your randomly stopping Spotify problem.
Fixes to Troubleshoot the Spotify Keeps Stopping Issue
Continuously pausing or buffering songs automatically kills the whole vibe of the song and leads to a frustrating streaming experience. So, if you are also a music-lover trying to fix Spotify, the below-given tricks will definitely help you save your day with good music.
Change the Password
Spotify doesn't allow streaming music to multiple devices at a time from a single ID and maybe that's why your Spotify keeps stopping. So, if you think some other person is using your ID, you should immediately log out from all other devices and change your password.
Quick Tip: First, you should change your password and then sign out from everywhere. This way, no one will be able to re-access your account.
Notes
You need to have the app on your desktop in order to sign out from other devices.
If you haven't shared your password with anyone, and you are struggling with Spotify stopping randomly, the below-given tricks will definitely help you fix the issue.
Fix the Internet
A slow Internet connection is a major problem that causes the music streaming app to pause. So if your Spotify keeps stopping you should check whether you have a stable internet connection. This issue is really common with people who use their mobile internet instead of Wi-Fi for streaming songs.
Clear the Spotify Cache
If you ponder why my Spotify keeps pausing Android devices? Let me tell you that your Android device doesn't have anything to do with it. An error like 'Spotify can't play right now' can be caused due to the cache.
In this case, all you have to do is clear your app cache. You can do the same within the app only. Simply visit the Settings sections>> storage>> and clear the cache.
Check Whether Spotify is Down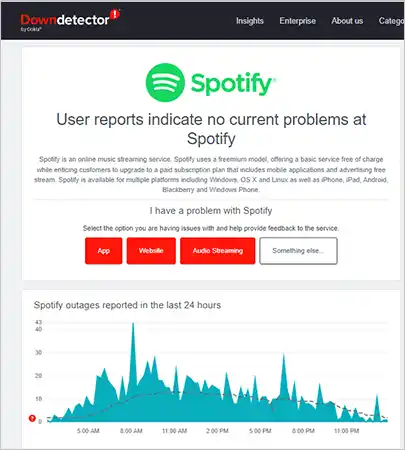 Spotify pausing randomly is common when its server is down. If you feel the app is down, you can check its working status on the Twitter feed of Spotify Status or on the Down Detector website. In this case, you cannot do anything except restart the app because the problem is from the company's end.
Look For Pending Updates
Vibing on a song and all of a sudden there's pin-drop silence. Has it ever happened to you?
If it's happening to you for the first time, you must be sitting long on app updates. So instead of panicking and brainstorming about why does my Spotify stop playing, you should look if there's a pending update.
Besides this, the app updates come with new features and bug fixes so updating the app will definitely resolve the Spotify keeps-stopping issue. To update the app, all you have to do is visit your respective Play Store; App Store, and Google Play Store and check if there's a pending update for the app.
Update Your Device Software
If your Spotify randomly stops on a regular basis, there can be a possibility that your device's version doesn't support the streaming music on Spotify. Look for updates in your software because the latest software versions will help in improving performance.
Simply visit the settings section of your device and see if there's a pending update for your Android or iOS device.
Restart the Device
Restarting the device is really magical and every time I face any problem with my device or with an app, this is my go-to solution. It's the most popular troubleshooting method that can potentially solve the issue of Spotify pausing randomly. Follow the following steps to restart your Android and iOS device.
For iOS Devices-
Long press the power and the volume up buttons simultaneously.
Lastly, slide from left to right, when the 'slide to power off' notification, pops up.
For Android devices-
Long press the power button.
Select the option of Restart from the given menu.
Restarting the device will more likely address Spotify pausing randomly error. In case restarting the device doesn't work, check your phone storage.
Clear Storage
After trying all the above-mentioned troubleshooting tips if your Spotify keeps stopping you should check whether your phone has sufficient storage. The app needs space to run smoothly because listening to music from an app also uses space from RAM. If you don't have enough space these steps will assist you in clearing storage in Android and iPhone.
For iOS Devices-
First, open settings and navigate to the 'General' option.
Under General tap on the 'iPhone Storage' option.
For Android devices-
Move to 'Settings' on your Android device.
Hit the option of 'Storage'
If your phone doesn't have enough storage, clear up space by uninstalling some apps and deleting files. In case your Spotify keeps stopping you can try reinstalling it.
Reinstall Spotify App
Uninstalling the app altogether and reinstalling it can help in dealing with the broken links and missing files due to which Spotify randomly stops. The method of uninstalling the app on both Android phones and iPhones is the same. You can take reference from the below-given steps for reinstalling the app.
Step 1: Long press the app icon.
Step 2: Select the option of 'Uninstall' from the given menu.
After this open Google Play Store or App Store on your device and type Spotify in the search box. Lastly, tap on the icon of install and then, log into your account.
Quick Tip: Uninstalling the app will delete all your data from the app, which includes downloads, playlists, favorite songs, etc. So, log out before uninstalling the app if you don't want to lose your data.
It is said that the best way to unwind after work is by listening to music, if your Spotify keeps stopping, these troubleshooting tricks will definitely prove handy in fixing the issue, and help you relax. Moving further, I am also enlisting some tips that can prevent your Spotify keeps pausing on Android and iOS devices.
Key Tips to Prevent Randomly Stopping Spotify
If you are experiencing pauses while streaming music on your mobile device, these simple tips will definitely be helpful for you:-
Turn off the data-saving mode on your device.
Download songs if you are traveling in a low-internet area.
Make sure that no other person has access to your account.
Clear all the temporary data and switch off your phone for a minimum of 15 seconds.
Don't use the app in lower power mode or battery-saving mode.
So that was all about how to fix the issue of Spotify keeps stopping. I hope that now you know what to do when the app randomly stops. In case the problem still persists you always have the option of downloading free music on iPhone and Android.
Frequently Asked Questions
Ans: If your Spotify stops randomly, these could be the possible reasons behind it: –
Unstable internet.
Someone else is streaming music from your account.
Full Storage.
Outdated version.
Pending Software update.
Ans: No, Spotify does not stop playing after a while, but if it keeps pausing after streaming songs for a while, these two reasons might be the primary cause.
You have turned on the sleep timer.
Your account is being used on two devices.
Ans:
Clear cache.
Turn off power saving mode and data saving mode.
Change the password and then log out of all the devices.
Reinstall the app.
Update the app.
Update your device.
---