Are you a One Directioner or a Swiftie? Well, you are about to find out whose top artist and who's that one song you've listened to the most this year, and for how many hours Spotify Wrapped is here! And this time, it arrived with a crazy surprise. Do you want to find out? Continue reading, and you will unwrap your 2023 gift soon. 
Since 2008, when the world was introduced to the free music streaming app Spotify, there has been something about this platform. Something so strong and engrossing that it gained revenue of €9.66 Billion in 2021, giving it a stroll of about 22% in just one year.
Maybe this is why it keeps on introducing such engaging features or whatever you call it to keep its audience pleased and attract more of them towards it. Just like Spotify wrapped 2023, which lets its users show off their music taste on their social media and even tells them how many hours they have listened to that artist. 
I bet you're much hyped and excited about finding out your Spotify is wrapped too. I'm here to teach you how to check Spotify wrapped 2023. 
How Can I See and Share My Spotify Wrapped Stories?
To see your Spotify wrapped for this year, you will have to use the mobile version of the service. There's an abide version available on the web, but that is just for listening to music; there won't be any glitz on it.
Here's how to get Spotify Wrapped:
Launch the Spotify app on your phone and right on the homepage only, you will see a prompt saying 'See Your 2023 Wrapped', click on it to continue. 
However, if the app isn't showing your 2023 Wrapped, you can click on https://www.spotify.com/us/wrapped/, which will direct you. 
The wrapped story will take you on a tour where you will get to know your genre, top songs, and the artists you listened to the most this year.
On each slide of your wrapped story, you will have a share button that will let you share that page on your social media handles like Instagram and Facebook.
And now, it's time for the surprises; yes, plural, there are two surprises this year. Let's unwrap!
Surprise Number 1
This year, Spotify wrapped also gives the users a personality based on their listening pattern, like the 'Early Adopter' or 'The Adventurer.'
Guess I'm a Nomad!
Surprise Number 2
Hold your breath cause this is a big one. This year, you will get a personal message from YOUR TOP ARTIST! Let me know who's screaming after knowing this. That's right; if you listened to Charlie Puth the most, you would get a video message from Charlie; how exciting.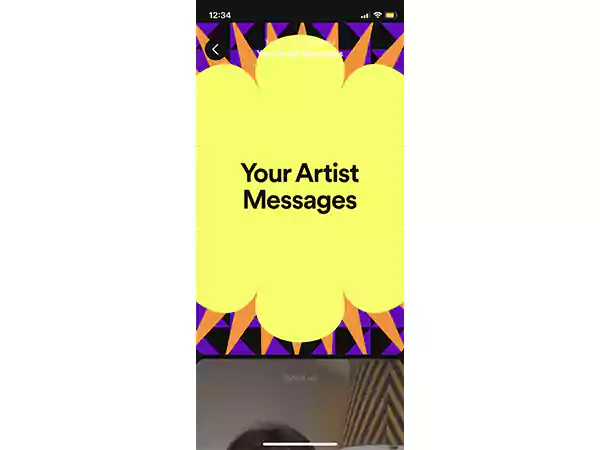 Here's my message from my top Artist, Yay!
Spotify Top Artists and Podcasts
Spotify has announced Bad Bunny as the most streamed artist on the planet. While Kanye West, Taylor Swift, Drake, and The Weekend were the top artists in the USA.
The most streamed songs globally are-
"As It Was" by Harry Styles
"Heat Waves" by Glass Animals
"STAY (with Justin Beiber)" by Kid Laroi
"Me Porto Bonito" by Bad Bunny
"Titi Me Pregunto" by Bad Bunny
Most streamed podcast globally are-
The Joe Rogan Experience
Call Her Daddy
Anything Goes with Emma Chamberlain
Case 63 (All languages)
Crime Junkie
More About Spotify
Spotify is the world's most extensive music streaming platform. This incredible music streaming service was founded in 2006 in Stockholm, Sweden, by Daniel Ek and Martin Lorentzon. After convincing some record labels, the platform was officially launched in 2008 and achieved instant success. And then, after surviving its massive transition to mobile, Spotify went public in 2018, having a market capitalization of $26.5 billion on the very day of trading.
It even drew criticism from recording artists complaining that the platform pays too little. This was long gone as Spotify continues to dominate how we consume these decades. Even after this, its most alarming rival Apple Music has gained market leadership in the USA and some other countries.
Key Statistics of Spotify
Spotify has never published a net profit;, in 2021, it posted a €39 million loss.
And in 2021 only, it received an increase of 22% in its revenue.
Spotify has over 182 million subscribers from all around the globe, and about 422 million people use Spotify once a month.
There are over 70 million songs and 2.9 million podcasts on Spotify.
Spotify has tripled its revenue in the past five years.
Spotify's Regional Usage
Spotify's largest market is Europe, with over 121 million users recorded in 2021. Its largest individual country is the US, accounting for over 65 million users in the same year.
| | | | | |
| --- | --- | --- | --- | --- |
| Year | Europe | North America | Latin America | Res of the World |
| 2016 | 40 | 36 | 20 | 8 |
| 2017 | 51 | 46 | 28 | 13 |
| 2018 | 67 | 56 | 38 | 20 |
| 2019 | 84 | 65 | 49 | 35 |
| 2020 | 102 | 78 | 66 | 54 |
| 2021 | 121 | 85 | 78 | 71 |
FAQs
Here are some frequently asked questions about Spotify and how to check Spotify wrapped 2023: 
Q. How to find your Spotify wrapped?
To find your Spotify wrapped 2023, launch the Spotify wrapped on your phone, and on the homepage, you will see the option to view your Spotify wrapped for this year. 
Q. When does Spotify wrap start?
Spotify wrapped starts at the end of each year. Like you will receive your wrapped notification at the beginning or middle of December each year.
Q. Can I access my wrapped playlist all year?
Yes, you can type 'Wrapped' on the search bar on your Spotify app, and you will find the wrapped playlist there.