Telegram is a safe messaging platform and this means that every message you send is encrypted, and logging into your account requires more information than just a username and password.
As one of the few apps with impenetrable security in the world of private messaging, Telegram has established a strong reputation. This safe and reliable reputation is encouraging people to use the Telegram web portal.
It has grown to be a popular option for people who want to keep their life private because it relies on usernames rather than phone numbers for establishing connections with new people. Although it is not the be-all and end-all of secure private communications, it does assist users in remaining anonymous.
It's not surprising that some of Telegram's growing user base would prefer to use Telegram web so that they can use the Telegram desktop login to access the messaging app.
And fortunately, just like with all widely used messaging services, a Telegram account setup can be used to access web Telegram login from the comfort of your PC. This is especially helpful if you spend a lot of time in front of a computer screen.
I will discuss using Telegram web in this comprehensive guide to aid those who are unfamiliar with web telegram login.
Let's get started!
A Brief About Telegram Web
Telegram is a fantastic app, and since it does have a Telegram web portal, you should have no trouble using it on any platform. But the fact is that very few people are familiar with how to open telegram on a laptop.
Telegram web as a platform is providing all the functions which you can access through your Telegram messenger mobile app via Telegram desktop login on your PC.
Consequently, the messages you send through Telegram Web will be accessible through your mobile app, and vice versa.
How To Login Telegram Web Portal?
Telegram users have two options for logging in to the Telegram Web portal. You can either use a QR code or your phone number just like the mobile app.
One can head to www.telegram.web and easily log in to Telegram, but for your convenience, I will provide a precise procedure for web telegram login in this section.
Method 1: Web Telegram Login Via QR Code
Step 1: Use Google Chrome, Safari, Microsoft Edge, Firefox, or any other web browser to access the Telegram web portal on your personal computer.
Step 2: Now open the Telegram mobile app on your phone and navigate to Settings.
Step 3: Next, click on "Devices" on your settings menu to manage your devices.
Step 4: Tap the "Link Desktop Device" button to access web Telegram online.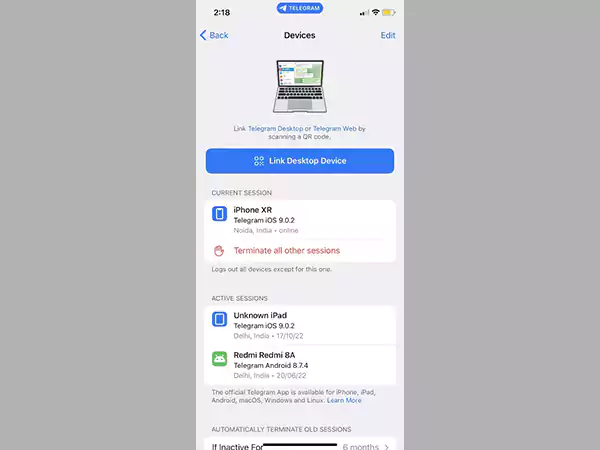 Step 5: Point your phone at this screen to scan the QR code presented on the Telegram web portal. It's possible that the app might need your permission to use your camera.
That's it; you can now use Telegram's desktop web portal in the same way you would its mobile counterpart.
Method 2: Web Telegram Login Via Phone Number
Follow these precise and easy steps to log in to Telegram on your laptop:
Step 1: Click on the "Log In By Phone Number" call to action when you are on the Telegram Sign In page.
Step 2: The next page will ask you to enter the registered phone number after choosing the country from the drop-down menu.
Step 3: Click the "Next" button to continue after you're finished.
Step 4: Enter the code on the following page after you receive the code on your phone number and the Telegram app.
This will finally direct you to the Telegram web version. Here you can utilize the web version similar to the mobile version.
Telegram Desktop Login Via App
In addition to using Telegram through a web browser, you can also use the Telegram Desktop App. Installing and configuring the Telegram Desktop App requires the following steps.
Step 1: Use any web browser, such as Google Chrome, Microsoft Edge, etc., to visit the App page on the Telegram official website.
Step 2: Click on "Show All Platforms" and choose the telegram app version according to your device.
You will find that downloading of your Telegram app will start automatically after choosing your supported device.
Telegram Account Setup Tutorial
If you want to know how to set up your Telegram account, this section is for you. You don't need to do much for making a Telegram account. Simply having a working phone number is sufficient. This is due to the fact that you must enter a code that is texted to your phone in order to login Telegram.
Step 1: Launch the Telegram app or website and select Start Messaging.
Step 2: Simply type in your phone number after the country code.
Step 3: You will receive a five-digit code via text message from Telegram; enter the code to log in.
A message stating that Telegram will call you in a few minutes will also appear if you are attempting to log into Telegram and for some reason you are unable to receive the code from the text message. This is a backup method of accessing your account if you are unable to receive text messages.
Conclusion
Since its 2013 launch, Telegram has added millions of new users to its platform. The odd thing, though, is that this business has never made a single dollar on its advertisement. Isn't that quite unique in this digital marketing era?
Furthermore, their app has no ads at all. The primary goal of the Telegram app's launch was to simply give users the best and safest messaging app possible.
My goal with this article was to educate you guys on utilizing this brilliant app on your laptop, desktop, or any other system. I hope you will now be able to log in to the Telegram web portal easily.
Frequently Asked Questions (FAQs)
Ans: If you're concerned about data sharing and privacy, Telegram is secure and reliable, so Telegram web should be a good and safe choice for you.
Ans: No, you can not do that because entering a phone number is required to log into a Telegram account.
Ans: All of your communications in the "Secret Chat" are end-to-end encrypted, making them unreadable to anyone but the sender and recipient. Neither a third party nor the business can read those messages. Furthermore, these messages cannot be forwarded.
Ans: No one has access to your Telegram search history, and only people with contact sync turned on can see that you've downloaded the app.