Hello my fellow Gen Zs, well today I am gonna help you to up your game on Snapchat with effective utilization of stickers for Snapchat.
Teen love, according to Wired, is what gives Snapchat its life and breath. Around 73% of Snapchat Users in the United States are between 18 to 24 years old.
According to the charts and data, the majority of those on Snapchat are Gen Z and it is no secret to us that Gen Z loves color, customization, creativity, vibing, and most important of all – "Aesthetics".
I'm sure you all adore Snapchat and all of its entertaining features. But the custom and funny Snapchat stickers are one of the main game changers for the app.
Snapchat stickers are the best option if you want to have a highly customized presence on the app.
Although consumers all around the world are familiar with and adore lenses and filters, it can be challenging to find a tool that offers the same flexibility (and fun!) as stickers.
Stickers are the ideal method to make your Snapchat stories shine, whether you're seeking to add some personality to your snaps or can't think of the right quotation.
This is for you if you want to share humorous Snapchat stickers instead of the same old dad jokes and be the coolest person with stickers and memes on Snapchat!
This article will explain how to use Snapchat stickers as well as how to add them to your snaps and provide you with some cute and funny stickers available on Snapchat.
What Are Snapchat Stickers?
The little photos people use on their snaps may have caught your attention if you spend a lot of time scrolling through Snapchat stories.
They could be still photos or animated GIFs. These are what Snapchat refers to as stickers, and they're a terrific way to give your snaps a little extra flair.
They are used as a technique to add individuality and emotion to your friend's Snap. For instance, when sending a humorous meme to a friend through a Snap, you can also express your sense of humor.
Custom stickers from Snapchat are available, including time and temperature stamp stickers.
Users can create distinctive stickers that can be used on a variety of snaps. Additionally, Snapchat provides personalized Bitmoji (facilitated by GIPHY), GIFs, and emojis icons.
How to Add Stickers to Snaps on Snapchat?
Social media stickers of today, especially those on Snapchat, can help us all relive those happy memories from our youth. Additionally, there are numerous opportunities for modification because the stickers are digital.
Are you prepared to give your snap a unique flair and show your creativity? Then, let's talk about adding stickers to Snapchat.
Step 1: Open your Snapchat app and Log in if required.
Step 2: Tap the white circular button 🔘 at the bottom of your Snapchat screen to capture a photo and to take a selfie instead, you have to tap the icon with 2 arrows 🔄 at the top right corner.
Step 3: The toolbar will show up on the right side of your screen after you've taken your picture.
On the toolbar, click the stickers symbol. The suggested stickers for Snapchat will open right away.
Step 4: Depending on the message you want to send through that image, finding the ideal sticker may take some time.
When you initially access the sticker tool, suggested stickers will be displayed that are specific to the day, time, and place. Use the search bar at the top to quickly find content by entering any term or caption that fits your photo.
Step 5: A sticker will immediately show up on your photo after being tapped.
It's likely that front and center won't be how you want your sticker to look, but editing stickers is simple:
To relocate your sticker, drag the sticker to the desired spot by touching it.
Also, to make your sticker smaller or larger, pinch it between your finger and thumb or move your hands in the opposite direction.
Having trouble choosing just one sticker? Repeat the above steps and you can decorate your snap with as many stickers as you desire.
Step 6: When you're satisfied with your photo, tap the Story icon at the bottom of the screen to send it right away to My Story. Your snap will be posted for 24 hours to your feed and the feeds of your friends.
Additionally, you can simply hit the "Send To" button in the lower right corner of your screen, choose a recipient, and then send your snap to someone specific on your contact list.
Hot Tip🔥: Feel free to add any text or drawings using the icons in your toolbar before sending your stickered snap. The Snapchat filter can also be added simply by swiping across your screen to enhance your snaps.
Different Types of Snapchat Stickers
Let's explore the other Snapchat features now that you know how to create a sticker!
I will explain six different Snapchat sticker types in this section.
You may view some of the various sticker categories on Snapchat by tapping on the sticker icon, which resembles a square with one of its corners folded in.
The icons for each sort of sticker can be found at the top of your screen once you've opened the sticker tool. I'll go over each one in further depth.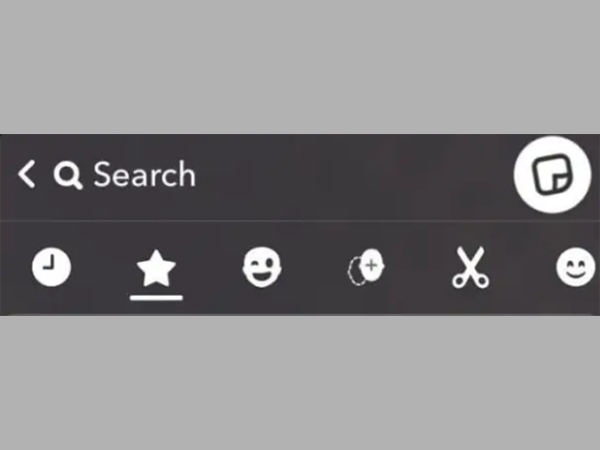 Recent Stickers
These are the same stickers that you once used. Snapchat will automatically fill your recent stickers area with well-known emojis if it isn't already full.
Recommended Stickers
Snapchat suggests these stickers based on the time and location of your shot. Additionally, it has stickers that show the time, temperature, or location as well as other recent information.
Stickers like 2D and 3D stickers, GIFs, or animated graphics are suggested. You'll also see suggested Bitmoji stickers.
Bitmoji Stickers
By tapping the winking face icon next to it, you may select from a variety of stickers that include your Bitmoji.
A Bitmoji is a fully customizable digital avatar or virtual representation of yourself. You can select the costumes that best reflect your personality with Bitmojis. These stickers come in static, 3D, and animated varieties.
Making a Bitmoji sticker is really simple:
Select "Create My Avatar" and then tap it on the sticker drawer.
Utilize the menu at the bottom of the screen to modify your avatar. You can customize your avatar's body type, face, hair, and clothing.
When you are satisfied with your avatar, select "Save." Tap once more to view your avatar in various poses and you are done.
My favorite kinds of stickers are bitmojis. When I don't feel particularly creative, they are ideal because Bitmoji has already done the thinking for me.
Cameo Stickers
A cameo is simply your selfie on an animated GIF, much like a photo stand-in. Plus, even collaboration can be used to produce cameos.
The objective is to design a distinctive sticker that will amuse other users or possibly make you a meme.
Making a cameo is simple:
On the sticker drawer, a selfie mirror will be shown to you.
While snapping your selfie, adhere to the instructions on the app. You can also take a selfie with another user.
Click "Save" if you are satisfied with your selfie.
All of your cameos will be listed underneath. You can choose which of your friends will be able to see your cameos when you send it to them.
Customized Stickers
You can view all of your customized stickers by choosing the scissor symbol.
By simply cutting an object from a snap, Snapchat lets you make personalized stickers. You can reuse the cut-out object in the future because it immediately stores as a sticker.
To make custom stickers:
Tap the camera icon at the bottom of your screen to take a picture.
On the right side of your screen, click on the scissor symbol.
Outline the item you wish to convert into a sticker using your finger. Thus, the undesirable background will be removed.
The image you have cut out will automatically stand alone as a sticker and save as your finger is lifted off the page.
Emoji Stickers
Emojis are now a common form of communication in the social media age. SO, emojis from Snapchat are no different.
Emojis that are typically found when sending texts or using other social media sites are available on this last sticker tab.
Funny Snapchat Stickers
The decision you make in relation to the context of the Snap is what matters most while sending stylish and amusing Snapchat stickers.
I have selected some of the funniest Snapchat stickers for various situations, so you can choose wisely.
| | |
| --- | --- |
| The Ghost Sticker | Cool Frog |
| The Dancing Hot Dog | The Alien |
| Spill The Dirt | Sarcastic Cartoon |
| Weird Face Dog | Stephen A Smith Sticker |
| Bitmoji: Dad Joke Alert | Bitmoji: Not Funny |
Cute Snapchat Stickers
Here are a few of the cute Snapchat Stickers for you to use and enhance your snap stories.
Aesthetic Snapchat Stickers
Following are some of the most aesthetically appealing Snapchat stickers to beautify your snaps. Enjoy!
Unique & Weird Snapchat Stickers
Emma Darvick Snapchat Stickers
Gen Z Slang Snapchat Stickers
Why Should You Use Snapchat Stickers?
Stickers are a terrific way to give your pictures some personality and make them stand out. It's easy to alter photos in a way that will impress your Snapchat pals, especially since you can make your own stickers.
Therefore, utilizing these stickers for personal use is absolutely recommended, but using stickers for your commercial objectives is currently relevant too.
Well you see, Snapchat isn't simply for keeping up with the Kardashians.
People have been using stickers to communicate with one another since long before social media. Stickers convey ideas, creativity, and personality.
Stickers are entertaining and affordable, and they have helped both large and small businesses attract new clients and generate buzz about their brands.
Kim Kardashian even introduced her own Kimoji, which made $1 million in a single minute of sales.
Snapchat has all the sticker categories that you can think of, from 2D images and GIFs to Bitmojis and interesting cameos.
It's the ideal platform for kicking off your sticker campaign because of all these distinctive selling qualities. In addition to beautifying your snaps, Snapchat stickers give you the chance to promote yourself by allowing you to make your own stickers within the app.
Well, I have tried to cover major aspects of Snapchat stickers and I hope this blog will provide you with impactful insights.
Show your creativity and use your stickers wisely. Enjoy!