Just observe the tweets of the users they shared about Snapchat shortcuts; it's such a great and useful feature. But it's also true that most of you often struggle to make Snapchat shortcuts, don't you? Since not much relevant and reliable data is available online, it is obvious that you went insane when you couldn't find any solution to it.
Relax and calm down because I have come up to discuss this tricky topic in detail. Yes, you made it today because herein, you will get to know the meaning of Snapchat shortcuts, how to create a shortcut on Snapchat, and many other relevant concepts.
What are Shortcuts on Snapchat?
Snapchat always introduces innovative features after a set of intervals to enthrall its audience, and being a regular user of the platform, you should know this fact.
Though the free version lets you use the funny and cute Snapchat stickers, however. Snapchat premium account allows you to use many advanced features such as customizing notification tones, increasing Snapchat scores, and much more. One in the list is "Snapchat shortcuts".
Amongst all such features, "Snapchat shortcuts" is counted as an essential one. Using this feature, you can create shortcuts on Snapchat for your selected or favorite contacts with whom you interact the most.
Creating Snapchat shortcuts seems like the perfect idea when you want to maintain streaks with any of your Snap friends. It will help you to access your contacts immediately.
How to Make Shortcuts on Snapchat?
The following illustrated steps will let you know how to get shortcuts on Snapchat:
Launch the "Snapchat app" on your device.
Create a snap by selecting an image from your gallery or clicking a new picture instantly. Thereafter, scroll down toward the bottom to click on the "Send to" option.
Look up the "Shortcut" option in the upper right corner and tap on it.
Select those "Snapchat friends" whom you want to add to the Shortcut list.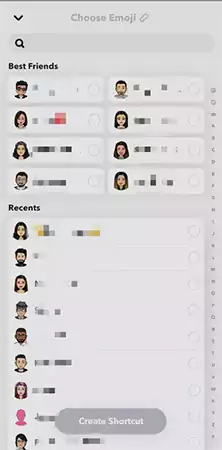 To differentiate the shortcut list, provide it with an emoji name by tapping on the "Choose an emoji" option. Thereafter, tap on the option that reads "Create Shortcut."
Sending Snap to Your Friends Using Snapchat Shortcut
Once you have made a Snapchat shortcut, the next step is to send it to your favorite Snap friends. Do you know that sending snaps using the Snapchat shortcut eases your workload? If you are not aware of this fact, it's not a problem. Learn to do it by following the steps illustrated below:
Create "a new snap." Either select any image from your gallery or click a new photo.
Scroll down till you reach the bottom, and you will find a "Send to" option. Tap on it to continue.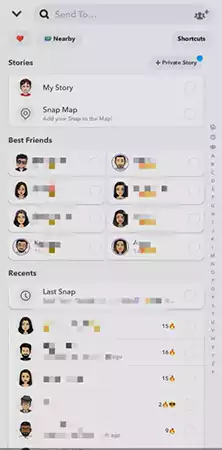 Go to the left corner of the screen. Herein, tap on the "shortcut list emoji" option.
Choose all or some of your friends in the shortcut list to send the snap. Once you have decided on the recipients, tap on the "send icon" button.
How to Add Chat Shortcuts on iOS?
To add chat shortcuts on your Apple smartphone, do as directed below:
Open your home screen and swipe right to access the Today view.
Move downwards to tap on the "Edit" button.
Customize your Today view by tapping on the "+" button. You can locate it next to the Snapchat Widget.
Choose all of your "best friends" whom you want to add to the list.
Yippee! Your every chosen contact will appear on the Today View along with their assigned Bitmoji. Now if you want to chat with your friend directly, simply tapping on your friend's Bitmoji will do your work.
How to Add Chat Shortcuts on Android Phones?
If you are an Android user, the following steps are meant for you that will help you to add chat shortcuts on your smartphone:
Press and hold on to the home screen of your smartphone.
Tap on the "Widget" option.
Move downwards to select the "Snapchat Widgets" option.
"Add your chosen contacts" in the Widget.
In the last step, you just have to "add the widget on the home screen" after which you can access your chat directly.
What to Do If You Can't Find Shortcuts on Snapchat?
If you can't see your shortcuts on Snapchat, then try out the following hacks to fix your Snapchat error:
You may have either tried using different devices or updated your OS. On account of this, Snapchat gets more cautious to ensure optimum security.
Therefore, certain features in Snapchat get locked. Remember, the features are usually locked for 24 hours, so don't worry, just wait till the period ends and try again.
Remove the Snapchat app and reinstall it on your device.
Sometimes, simply signing out and signing in again can also do wonders. Try it as well and see if it can solve your problem.
Did You Know About This Update on Snapchat?
The Economic Times has published a piece of news based on research done by media regulator Ofcom that Snapchat and TikTok are growing immensely among children in the UK. The study shows that 46% of children currently use Snapchat, which was 42% earlier. On the other side, 50% of users of TikTok increased to 53% as of now.
Winding Up
Genuinely speaking, Snapchat shortcuts are actually one of the amazing handy features introduced by the app. It helps you send some personal and important messages to your Snap friends only, ensuring your privacy on the platform.
Lastly, by making a proper list of your closed Snap friends, you can also check and confirm that no recipient is left behind.
I hope my write-up helped you understand how to create shortcuts on Snapchat. Just refer to it anytime you feel you forget to create shortcuts on Snapchat. Follow the steps I have mentioned here and enjoy using this useful feature.
FAQs
Ans: No, you can't do it because Snapchat shortcuts are specifically pinned groups of Snapchat that can be identified quickly through emoji only. 
Ans: No, your friend won't get any notification because nobody except you can access the shortcut created on your app.    
Ans: As of now, if you want to add contacts to your Snapchat shortcut, the maximum limit set by the platform is 200 users per shortcut. You can't exceed this limit.    
Every shortcut you create is labeled with a particular emoji. No other user is notified about you using a shortcut. Hence, Snapchat shortcuts are entirely secure. 
Ans: Yes, you can do it. Simply do the following: 
Choose any "Snap."
Tap on: "Send To" >> "Shortcuts."
Move towards the Shortcut's name and tap on the "arrow" next to it.
"Uncheck the box," which you can locate next to the usernames.