Key Takeaways

Facebook suspends your account due to suspicious activities, rules violations, misrepresentation, or if your account gets reported by someone.
A suspended Facebook account can be recovered by verifying your identity or appealing the decision to Facebook if you are not mistaken. 
Are you dealing with a suspended Facebook account? If yes, then nothing to worry about, as this is one of Facebook's ways to show you they care for your security or they want you to be a better person. And in some way, Facebook is right in doing so as with an increase in hacking attempts; it is crucial to take extra steps to protect your account; and if you are unable to secure your account; Facebook will do it for you by putting a lock on it whenever it will feel something shady. Moreover, you should never indulge in any inappropriate behavior on any social media platform; as that is the most common reason to get banned from there.
Let's not scare you out anymore and start with the guide, where I have compiled all the information that I thought was important and will help you in recovering your suspended Facebook account.
Suspended, Disabled, or Locked? Know the Difference
Before you need to know what solutions you need to try or what steps you need to take to get your suspended Facebook account back, it is important to know whether your account is actually suspended or disabled, or locked.
'Suspended' or 'Disabled' and 'Locked' are actually the terms used interchangeably to describe a situation when a Facebook account becomes inaccessible for anonymous reasons.
Suspended Facebook Account
Upon noticing something suspicious, Facebook suspends an account. Suspicious activities can include suspicious login attempts, harassment, using fake accounts, or misrepresenting someone on the social media platform.
In order to protect your account, your account gets temporarily suspended and when you will try accessing it, you will get an error message similar to the one in the image below: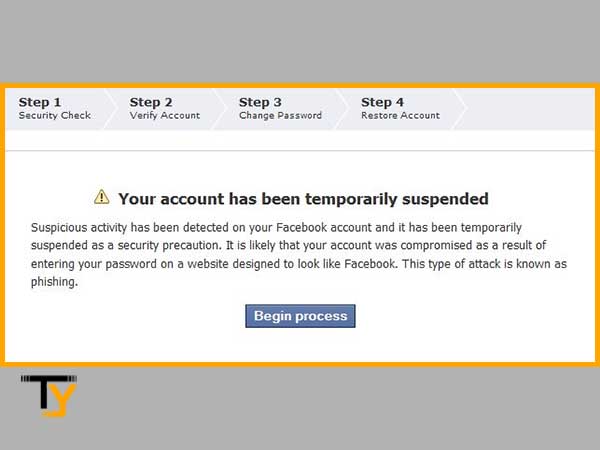 When Facebook suspends your account, you will no longer be able to use it till the time you are able to verify your identity.
Disabled Facebook Account
Facebook can also disable your account if you have violated any of Facebook's Community Standards, either temporarily or permanently, depending on if the violation was major or minor. You can easily recover your temporarily disabled Facebook account, but a permanently disabled account is gone forever.
Locked Facebook Account
Facebook can lock your account or can also block you from doing certain activities on Facebook if it found something inappropriate about your behavior on Facebook such as posting, liking, or commenting too frequently or sending too many friend requests that go unaccepted. Apart from that, your account can get temporarily locked for security reasons if someone else tries to get into your account.
In such circumstances, certain activities or your account can get temporarily locked and you will see a message like the one provided below:
That was about all the three scenarios you may encounter with Facebook, but what exactly gets your Facebook account suspended? Let's read about it.
Why a Suspended Facebook Account?
Suspension by Facebook equals a violation and if you too are facing a suspended Facebook account; these could be the grounds for the same:
Not using a Facebook account with your real name
Signing in to your Facebook account from an unknown or different location than usual days
If someone reported your FB account for inappropriate behavior or harassment.
Multiple failed login attempts
Posting something that goes against Facebook's Community Standards or Terms of Service.
And for similar other reasons, you may find your Facebook account suspended.
Are Suspended Facebook Accounts Recoverable?
Up to this point, you must have understood why Facebook suspends an account; but the main concern of a user owning a suspended account is if they can actually recover it.
The answer is 'May Be'.
The reason for this answer is that Facebook works according to its pre-defined algorithm. Although everything is mentioned on the Facebook help page about what behavior is acceptable or not; some things could still be misinterpreted by users, resulting in a suspended FB account.
In such a situation, Facebook gives you a chance to rectify your mistake if it thinks the violation was not major and can be ignored only when you are able to verify yourself.
Instance-1
Have a look at the image below:
Here in this notification or message by Facebook; it is clearly mentioned that the account was suspended due to not using your real name. Also, the concerned user is also given a chance to update his/her real name and recover the suspended account. Moreover, the precautions that need to be taken further are also mentioned there.
So, if we go by this situation, the suspended account is recoverable just by updating the real information, but this could not be the case for every user who is facing suspension from Facebook.
Instance-2
Have a look at the image below:
Now, here the concerned user needs to identify the people tagged in the series of photos that will be shown by Facebook; this has to be done in order to verify the person is the real owner of the account.
This is another form of security check by Facebook.
Conclusively, we can say that there is no fixed process that one has to go through to recover his/her suspended Facebook account. And the good thing is you can actually recover a suspended Facebook account if you were not mistaken and can verify your account using your personal information like your real name, photo ID; email address, or phone number.
Notes
Recovering a suspended Facebook account becomes difficult if it was not a real account such as a fan account, or fake accounts.
Options Available to Recover a Suspended Facebook Account
Option-1 The Straightforward Recovery Tip
Coming to the point squarely, recovering a suspended Facebook completely depends on what information or message you have received from Facebook; as I already explained, there can be different scenarios when users face suspension from the social media giant.
A tip from my personal experience would be-
Just follow the instructions you receive from Facebook and see what information you need to provide. Provide them with:
Your Real name
Your Photo ID
Your Government-issued ID
Codes sent to your email address or phone number
Find the friends in the tagged photos
Use trusted contacts
Answer to the Security Question
Whatever is applicable in your case or is required by Facebook.
Doing this will get your account verified by Facebook within a day or two, and Voilà! You got rid of the suspension.
Easy Breezy, isn't it?
If it is not a smooth ride for you and is opposite to what I imagined, no worries, I have got you covered.
Option-2 Easily Accessible Facebook Recovery Forms
The next handy solution to recover your suspended account is to use Facebook forms for filing an appeal. In Facebook's language, you need to appeal a ban or suspension to get it removed.
In that appeal, you can tell them that your account was mistakenly suspended; although the forms are for 'Disabled Accounts', but still you can give them a try as nothing is better than something. Just fill in the required information, send it to Facebook, and wait for a reply from their side.
Here are the links to the Facebook account recovery forms that you can try:
That's how you can contact Facebook about a suspended account and get help.
So, those were all the options you have to get your suspended Facebook back. In case, you have managed to get back your suspended Facebook account, consider yourself lucky. And, if you don't want to end up in a situation like this: go through the precautionary measures you need to take.
Notes
Facebook suspension can last for 1 to 90 days depending on the violation you have done. If you are able to verify your identity, you will be allowed to access your Facebook account there and then.
How to Avoid Suspension by Facebook?
These tips and rules will help you avoid such a situation in the future so that you don't get your FB account suspended again:
While creating a Facebook account, use your real name, photo, and date of birth.
If you own a business, make sure to create a separate Facebook page for that, do not use your personal account.
Do not make any post that is offensive or inappropriate in any way.
Do not unnecessarily tag people in your photos, as that can get your account suspended.
Make sure you are more than 13 years of age to use an FB account.
Add a recovery email and phone number to your account so that you can use it to verify your identity during a security check.