It can be very frustrating when we lose the only source of our daily enjoyment. No, I'm not talking about food 😅, but Facebook!
Facebook has evolved to be the most loved social media platform all over the globe, making it a family of 2.89 billion users. It has proven to be tremendously helpful in coping up with stressful work life and sneaking small breaks at work.
But have you imagined, what would you do if you come across a situation when your Facebook is not responding? 😱. It's horrifying right!
Just in case you came across this problem or are already going through it, this elaborative guide will help your way out of the situation and bring your train of small enjoyable moments back on track. So let's get going.
Solutions to Facebook Not Responding on Browser
Solution-1: Switch To A Different Browser
'Facebook not responding' issue can be due to a number of reasons, not using the right browser to access its website is one of them. Every browser has some parameters different from others, which makes a difference in the viewing experience of the website. Also, every website is created keeping in mind its usability in majorly used browsers only, and so does Facebook.
Facebook has listed out some browsers in which all of its functions work flawlessly, these are Google Chrome, Microsoft Edge, Mozilla Firefox, Safari, and Opera. If you are using Facebook in any of these browsers, then the problem might be different, but if not, then you should use Facebook in these browsers only.
Solution-2: Clear The Browsing Data
If you are using the right browser for accessing your Facebook account, then the most common reason for the 'Facebook not responding' issue can be the browser's corrupted cache data. Caches are the files stored in browsers that pool little information about every website you visit on the browser, and these files are used later on when a website is visited again, to load it faster.
However, sometimes these files get damaged and when this happens they start causing problems in accessing some websites.
Similarly, Facebook cache files might have got corrupted and thereby you are facing issues while using it. To get rid of this problem, you have to clear your browser's cache by going into its settings. Jotted down below are the links to instruction pages for clearing the browsing data (cache), specific to the browser you are using:
Solution-3: Disable Browser Extensions
Browser extensions are programs which when installed in the browser adds a lot of additional functionalities to it, which enhances the internet surfing experience. Believing this definition of browser extensions, you must have added a number of them to your browser. However, all of these add-ons are not reliable, some of these are malicious and tend to interfere with the security of the website in which you are logged in, like Facebook.
Furthermore, if the extension is malicious, then it can send unwanted messages to other recipients from your Facebook account and can copy or use your personal information on Facebook, falsely without bringing it to your notice. Therefore, seeing the threat to users' safety and privacy, Facebook might not respond or do not work properly to prevent the extension from harming your account and personal data.
Thereby, to prevent all this from happening, you should turn off or even uninstall the extension which you think is fraudulent. Below listed are the links to the instruction pages of different browsers where you will find the information to remove browser extensions:
Solution-4: Update The Browser
When browsers are not updated for a long time, then the compatibility difference between the browser and website safety may arise; this can make many websites behave abnormally or won't allow you to use some features to prevent data breaches.
The 'Facebook not responding' problem can be due to the same reason. Therefore, if you haven't updated your browser in a long run, then it is advised that you do it right away.
Solution-5: Restart Your Device
Many a time it happens that, when the system faces some difficulty while booting up, then some unterminated internal programs might interfere with other ongoing programs. If your Facebook is not responding, then it has a high chance that its functions have been intervened by internal computer programs that are still pending. By restarting the system, all the ongoing programs get terminated and start from the beginning and will get completed within the stipulated time.
Solutions to Facebook Not Responding on Android/iPhone
The solutions for the 'Facebook not responding' problem are not device specific, but are general troubleshooting methods that anyone having any mobile operating system (Android/ iOS) can use to solve their issues. Listed further in this article are some of these methods.
Solution-1: Restart Facebook App
If the Facebook app closes abruptly and does not respond, then it might be facing issues loading up some of its functions. Then, the first and most basic troubleshooting step you can take is, close the app, remove it from the background and relaunch it. Restarting the app will cause all of its necessary initial programs to take their time to load again from the beginning and thereafter, it will work fine.
Solution-2: Update The App
Keeping the Facebook app up to date is very important, as Facebook keeps on releasing new updates very frequently due to which older features are disabled. If some major security update has been made, then the app's running on previous versions tends to face problems in accessing a number of features and therefore, Facebook may stop responding. Therefore, if you are facing any such problem lately, the first thing you should do is update its app. Furthermore, if you do not remember to keep your apps updated regularly, then you can put them on auto-update settings. By doing so, all your apps will automatically get updated whenever an update will be released.
Solution-3: Clear Facebook App's Cache
The excessive cache of an app stored in your mobile phone can cause hindrance to a number of functionalities of the app. Similarly, Facebook might not be working properly due to the same reason. Therefore, it becomes important to clear out cache data on a timely basis to prevent its accumulation.
Apps' cache can be easily cleared by going to the phone's settings; there you will find the apps' management section, inside which all the apps will be listed, select the Facebook app from there and then choose the clear app cache option.
Solution-4: Check The Phone Storage Availability
When you have insufficient storage left in your phone, Facebook and many other apps that require a significant amount of space for their functioning start crashing; the phone screen might freeze, and the app does not respond to any triggered function. In such a case, you should check your phone's storage availability. Available phone storage can be known by going to the phone's Settings > About Phone > Storage.
If it's not sufficient, then you can delete unimportant files and apps to free up some space, or you can insert an SD card to expand the memory.
Solution-5: Restart Your Phone
If you are using your mobile phone for a long time without restarting or switching it off, then the phone's RAM gets filled with unnecessary apps and programs running in the background; also, a lot of cache files from all the apps get accumulated. This will affect the performance of your phone and will slow it down, due to which it will start lagging.
Furthermore, applications like Facebook consume a lot of RAM storage when launched and store cache in the phone; hence, if there is insufficient RAM available and cache files get overloaded, the application will crash and will not respond. Thereby, to get rid of the problem, you'll need to restart your phone to free its RAM.
A solution to Facebook Not Responding on Mac
If you are using Facebook on your Mac and its screen suddenly crashes and it is not responding to any action, you will need to forcibly stop it to end its ongoing function and then relaunch it. Following are the steps for doing so:
Press, Option, Command and Esc keys at the same time on your keyboard.
Then, the Force Quit dialog box will appear, from there select Facebook.
Then again select the Force Quit option, it will turn off the running Facebook website, and now you can relaunch it.
Common Connectivity and Internet Issues
If the above solutions are not able to help you, then this might not be an app or browser-related problem; it can be a mere connectivity issue that is often neglected by most of the users searching solutions for 'Facebook not responding' problem. Listed below are some of these issues:
Issue-1: Facebook-Server Is Down
The most probable reason for Facebook not working can be the server issue. If the Facebook servers are down, you will not be able to use any of its features. In order to know whether it is a server problem or not, you can visit the Downdetector.com website, type in the Facebook name in the search bar, and you will get the live status of Facebook servers.
If the servers are down, you will have to wait for some time till they are recovered to their normal working.
Issue-2: Poor Internet Connection
Facebook consumes a lot of internet data to load your Facebook feed fast, as it contains videos, images and much more. If your internet is not working fine or its speed is slow, then you can experience several glitches while accessing its features.
To know the exact internet speed, you can visit Speedtest.net, the website will show you the current speed of the internet your device is receiving. To get the internet issue resolved, you can turn off and on your mobile data or switch off and on the Wi-Fi router, it will help in re-establishing the connection, which will probably be more strong.
Issue-3: Misconfigured Device Internet Connectivity Settings
On your device, if Airplane mode is turned on, the device no longer remains connected to the internet. Many users mistakenly enable that option unknowingly and, thereafter, cannot access any internet-driven service. Similarly, if your device is connected to a network that has no internet access, then also you will not be able to use Facebook.
Therefore, the mere internet-connectivity issue is misinterpreted as the 'Facebook not responding' problem. Thus, it is important to go through your phone network connectivity settings and set them to a preferred environment to work uninterruptedly.
Bonus-1: What does the 'Facebook will be back soon' Message Mean?
If you are getting the 'Facebook will be back soon' message while trying to log in to your Facebook account, then do not worry, your account is not deleted, or it's not any problem to worry about. Many users come across this message when Facebook is making improvements in their user database. Due to the database being in maintenance, your Facebook account will not work till the job is done.
Also, all the user databases are not placed in maintenance mode at the same time, therefore, you need not be distressed if your friend's account is opening but yours is not. Additionally, this maintenance won't affect your account data, it will remain as it was before the process starts.
Bonus-2: What to do if your problem is not solved?
If the issue is simply that Facebook is not responding, it should be resolved by following the procedures outlined in the preceding article. However, if any of its specific features are not working, or you are facing any other issue, then you have to seek help from Facebook Support. Following are the ways for doing so:
For Android or iPhone: Shake your phone, but retain it from dropping. A small window containing the 'Report problem' option will appear. Tap on it and submit your problem.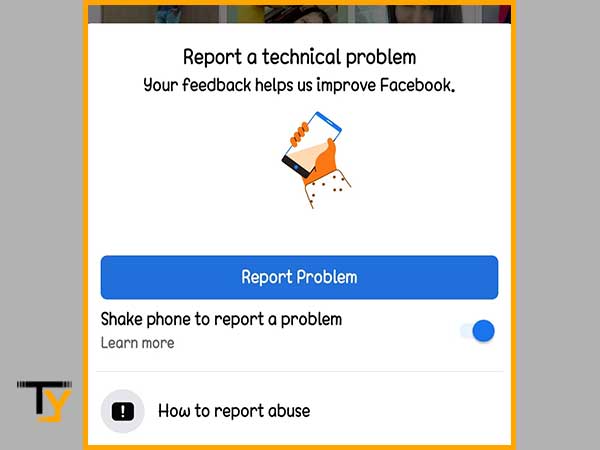 For Browsers: Login to your account, click on the drop-down arrow in the top-right corner, select 'Help & Report' and then choose the 'Report a problem' option and follow on-screen instructions.