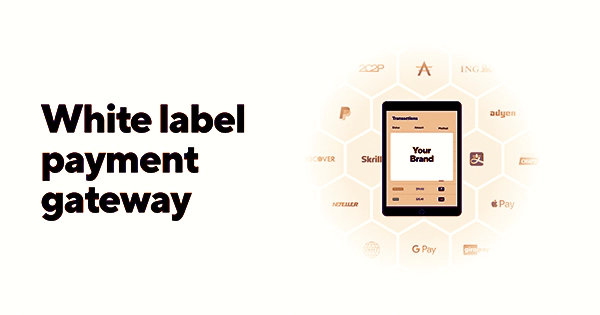 A white label payment gateway, an online payment processing service, lets businesses accept customer payments. For a charge, a processor handles financial transactions between a corporation and its consumers. Companies may save time and money by adopting white-label gateways instead of constructing their own processing systems.
To accept payments from customers, businesses probably use these gateways, which connect directly to the cloud-based infrastructure of online and offline shops. Websites and mobile apps encrypt consumer information and send it to merchant servers.
Credit cards, debit cards, ACH transfers, PayPal transfers, digital wallets like Apple Pay and Google Pay, and electronic currencies like Bitcoin are secure methods to purchase online and deposit money into the merchant's bank account.
The main advantage is increased security to protect companies and customers from fraud and other undesired behavior. However, to prevent fraud and other ill practices, effective customer service can also help.
Standard precautions include 3D Secure verification for online payments and encryption technology that scrambles consumer data between devices, so only authorized parties can see it.
Due to these advantages, white-label gateways are becoming a popular choice for firms that require a straightforward, low-cost solution to handle global expenditures. Businesses might add features without recruiting expensive and time-consuming in-house technical development teams as they scale. This boosts productivity at every level.
Why Do You Need a White-Label Payment Gateway?
If you have ambitions for your business, to establish a brand value, and maintain customer satisfaction, white-label gateway can help you. Here are some of the points listed below:
Your clients can easily make expenditures online if you get a white-label gateway. This ease of process will make your customers come back to you for your products. Generally, online shops, e-commerce software, and gaming platforms can be your clients.

With its services, you have the freedom to choose what functions and tools you want your financial product to have, and which ones are not important. This way, you can save your resources as well as valuable assets such as time, effort, and many more things.

Speaking of online payments, customers usually get very concerned about their money's safety and security. In this case, you can freely rebrand it and add your logo to it. This can help you increase customer loyalty and uniquely respond to every client's needs.
Speaking of customer retention, here is the data that shows what industry has the highest number of customer retention in today's demographics.
Top 3 White Label Payment Gateways
Akurateco
Akurateco is the best white-label payment gateway because it is a customizable, white-label solution that gives customers full control over their own PCI DSS-compliant processing infrastructure. The platform provides access to a wide variety of global banking and monetary services via a centralized interface.
Clients might minimize processing expenses and increase their transaction approval percentage by managing all of their channels in a single location on the platform. In no more than 7 business days, have your own processor. Reduced time to market and elimination of middlemen processors.
User-friendly and flexible in its configuration. There are a number of ways to customize your system and the pages. You can also avail of other services of the company such as Payment Facilitation as a Service.
Tranzzo
Websites, mobile applications, and instant messengers may all use Tranzzo's payment services. Based on local standards, they'll choose the best credit card processing, e-wallet, and cryptocurrency options for your company.
In only a few days, you can have your own branded solution up and running with the help of Tranzzo's White-Label Solution for PSP. Everything that's needed to bring on new merchants and oversee their initiatives is included. Each service might be modified to better fit the requirements of your company and its brand.
Corefy
Corefy is a universal orchestration platform loaded with features for use by any kind of online company or financial institution. They deliver a consistent communication, control, and administration interface to providers and acquirers worldwide by integrating them.
Some of the largest corporations and banks in the world are among Corefy's rapidly expanding list of satisfied clients. They provide a full suite of cloud-based data processing services to a wide variety of sectors.
Here are some interesting facts about customer retention that might help you sometime in the future:

A 5% increase in customer retention can boost profits by up to 75%. (Bain & Company)
Almost 65% of a company's business comes from repeat customers. (SmallBizGenius)
82% of companies agree that retention is cheaper than acquisition. (SmallBizGenius)
Companies that provide a great experience have a 16% price premium on products and services. (Emplifi)
Vilfredo Pareto's 80/20 principle states that by studying the top 20% of your customers, you can work out how to attract similar people and increase your future profits. (Investopedia)
Sum up
With white-label solutions, businesses may provide clients with high-quality payment services under their own brand without investing in costly software development. Therefore, choose only the best company for cooperation.
---