Are you looking forward to your favorite artist's concert in your country but do not want to stand in line for hours?
This is where apps like Ticketmaster come in. It is a ticket booking site that allows you to buy those tickets from the comfort of your own home.
But imagine you are trying to buy tickets to your favorite concert, which is nearly sold out, and suddenly everything goes downhill, and the site displays an Error code: 5005.
Do not worry; just keep reading to find out what this Ticketmaster error code 5005 is and how to fix it.
Ticketmaster Error Code 5005: Possible Reasons
Some people have complained about the Ticketmaster 5005 error code appearing repeatedly, which can be quite annoying because you will not be able to buy or check tickets online if this happens.
An error occurs when there's a problem with the online system, and the code number pinpoints exactly where the error is occurring. There can be many reasons and complications for the occurrence of an error.
Before we move on to fixes, let's learn about the possible issues that might be causing this Ticketmaster error 5005.
Slow or Unstable Internet Connection
A poor internet connection is the most probable reason why you're receiving this error. If the internet is unstable, it can cause issues with payment processing, thus the error.
Server Issue
When there are too many people using the Ticketmaster website, the servers can become overloaded. It commonly happens when the ticket booking starts for a BTS, Taylor Swift, or Shawn Mendez concert.
The site crashes as a result of too many people attempting to purchase the ticket at the same time, resulting in the 5005 Ticketmaster error code.
The servers are also down during maintenance; most of the time, it will be stated on the website that they are down for maintenance. However, error 5005 may appear on occasion.
Cache Issue  
The browser cache is another big reason why you're facing this issue. Check if your cache is outdated or corrupted. If the cache is corrupted, it can cause the browser to crash or display incorrect information. So, whenever the error code 5005 occurs, make sure to check the cache.
Payment Processing Issues 
Ticketmaster accepts a variety of payment methods; if your payment method does not match that of Ticketmaster, this error code may occur.
Your bank could be another reason for your payment not being completed. If your bank is down, an error may occur, and you cannot purchase the tickets. This can also happen if the website does not accept your payment method or if your card is out of date.
Browser Issues 
Since Ticketmaster supports the updated version of new browsers, you might want to check if your browser is updated or not. If you are using an older browser, this Ticketmaster 5005 error code may appear because the browser is not supported and is causing issues.
Top 8 Fixes to Resolve Ticketmaster Error Code 5005
There are numerous causes for the error code: 5005, but thankfully, there are also solutions. Now that we know what is causing the issues to occur, we can try to solve them. To resolve the Ticketmaster error code 5005, try the solutions listed below.
Check Ticketmaster Servers
As we have mentioned before, the servers are a big factor in this error's occurrence. Ticketmaster's servers are typically unavailable during maintenance. Let the maintenance complete and come back later to book your tickets.
Overloading is another server-related issue. If there are too many people attempting to purchase the tickets, the site may crash, leaving you with nothing. You must wait and allow the traffic to pass in this instance as well.
Make Sure There's a Proper Internet Connection
Make sure that you're connected to the internet properly. The steps listed below can help you resolve your internet problem:
Firstly, make sure that there's no internet outage in your area.
If there's no outage, check the hardware to ensure nothing is out of place and disconnected, including the router, power cable, main power source, etc.
Check the speed of the Wi-Fi and make sure you're not sitting too far away from it.
Remove some of the devices that are connected to the same network if there are too many.
After properly reading and executing these measures, we're sure you'll not face any problems related to your internet connection.
Clear Browser Cache 
For those who don't know, a cache is a storage tool that temporarily stores data so that it can be readily available for access. However, it may start causing errors, so you should clear it once in a while.
Follow the steps to clear the cache on Chrome –
Open Chrome, then click on the three dots in the upper right corner of the page. Then click on More tools> Clear browsing data.
Select "All time" and check all three boxes -– Browsing history, Cookies and other site data, and cached images and files. Now click on clear data and you are done.
Sign Out of Other Devices 
If you have logged in to your account on various devices, then it may start causing the problem. In this case, you must log out of all of your devices before logging back into one and trying again.
To log out of your account, simply open the Ticketmaster website on your device and navigate to My Account > Sign Out.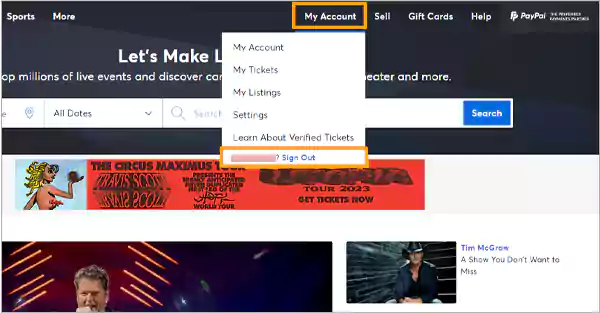 Update Your Browser 
An outdated browser is the root cause of many problems. Ticketmaster supports new versions of a browser, so if you have an older version, it can trigger the 50005 error code.
Follow the steps to update your Chrome browser –
Select the three dots in the upper right corner of the browser, then click on Settings.
On the left-hand sidebar, click on About Chrome and then check for updates.
Now, once the browser is updated, click on relaunch, and you are done.
Resolve Payment Issues
As mentioned before, payment issue is another thing that can trigger the Ticketmaster error code 5005.
If you are paying for the first time, ensure that your payment method is supported by the Ticketmaster website.
Make sure that your card is not expired. Also, make sure you have sufficient balance in your account.
If your card has expired and you have already saved it on the website, clear the cache before reopening the website and attempting again.
Ticketmaster accepts the following payment methods; check to see if yours is accepted –
| | |
| --- | --- |
| ACCEPTED PAYMENT METHODS | UNACCEPTABLE PAYMENT METHODS |
| PayPal | Banamex Visa |
| Visa | Banamex Mastercard |
| MasterCard | Banamex Debito |
| Discover | Banamex Debito Visa |
| American Express | Banamex Debito Mastercard |
| Ticketmaster Gift Card | Santander Visa and Mastercard |
| Debit cards with a major credit card logo | Mastercard Emitida en Mexico |
| Venmo | Santander American Express |
| Diners Club; however, Diners Club and Ticketmaster Gift Cards can't be used to buy Fan-to-Fan Resale Tickets. | |
Clearing Cookies and Checking Out in One Sitting  
Every website uses cookies to track your online behavior and make your online experience smoother. However, some cookies may not meet your needs and may cause problems.
As a result, clearing the cookies regularly may help to solve this problem. Another fix that you can try is completing your payment in one sitting. When you take a long time to make the payment, the session may expire.
Contact Ticketmaster Support Team  
If none of the fixes work, and you are still getting this error code 5005, contact Ticketmaster customer service.
Reach out to the support team in the following ways –
Call them at 1-800-653-8000.

Monday, Thursday, and Friday – 9 a.m. to 8.30 p.m. (local time).
Saturday – 9 a.m. to 7 p.m. (local time).
Sunday – 9 a.m. to 6 p.m. (local time).
They also offer an online chat service. You can log in to your account and chat with them about your query.
You can also connect via –
Final Words
We hope you will not encounter this problem again now that you understand the causes of the Ticketmaster 5005 error code and how to troubleshoot it.
If the same issue occurs again, please contact the Ticketmaster support team so that you do not miss out on purchasing tickets to your dream show!
FAQs
Ans: Error codes are triggered when there's some issue in the online system. This can be caused by several issues like a bad gateway, slow internet speed, site under maintenance, payment issues, etc.
Ans: The card details you entered might be wrong with some error, or your card might have expired. Also, make sure you have enough money in your bank.
Ans: You can try the above-mentioned fixes to get past the error code 5005 on Ticketmaster.