"Whatsapp is killing SMS"
Multiple media platforms were publishing these kinds of headlines, Circa 2014. Right now, "Whatsapp" is the pinnacle of brand recognition because it has become synonymous with instant messaging in our daily lives.
Whatsapp has become an essential part of our lives and it is evident from the fact that the majority of the people went wild after the "Global Whatsapp Crash" of October 2021. Let me tell you that the crash was just for 6 hours only.
However, people today want to get a lot more out of this application. Questions like, "how to read Whatsapp messages without opening Whatsapp?" or "how to read WhatsApp messages without blue tick?" are trending on web browsers.
Read This Also: How to Show Whatsapp Videos and Images in the Gallery?
THE POWER TO QUESTION IS THE BASIS OF ALL HUMAN PROGRESS.
– Indira Gandhi (Former Prime Minister of India)
Curiosity runs through my veins and thus I conducted my research to satisfy your and my own insatiable curiosity. In this article, I will talk about the nitty-gritty of the problem and provide you with the optimum solution.
So, let me grab this opportunity to answer your questions regarding Whatsapp messages and more.
Why do People Want to Read Whatsapp Messages Without Notifying the Sender?
Whatsapp has undoubtedly made our lives much simpler and improved them in multiple domains. We are truly grateful for this innovation of Jan Koum and Brian Acton.
But, what if?
You unintentionally opened the message and decided not to respond right away. The sender might come away from this situation with some confusion.
You simply don't feel like responding to your partner but still want to know what they are saying.
You are busy with some other stuff and you just forgot to reply. You might not want to come up as rude to other people.
You took a leave of absence from work so that you could enjoy the gentle tickle of walking on the wet sand and the warm sun kissing your skin. But your boss sent you a long message regarding work. Well, I'm going to utilize the secret features for this specific problem a lot (don't tell my boss about it).
At times it can be challenging to keep track of all messages at times, and users occasionally prefer not to open the entire app to read their messages.
Now, you get my point. Right? The advent of social media and the digital revolution brought us closer to each other for sure. But sometimes this closeness can make you feel like choking, sometimes you just want to be alone, and sometimes you just want peace from all other outside noise.
All these issues lead to the question of the hour and that is "How to read messages without opening the chat?". This is the situation where reading messages in private is useful.
No worries, mate! Allow me to educate you about some tips and tricks that can make your life better.
How to Read WhatsApp Messages Secretly?
It's time to say "Bye-Bye" to the anxiety and countless overthinking which comes with the appearance of a blue tick. The following are some tried-and-true methods for reading WhatsApp messages without the sender's knowledge.
Method 1: Disable Read Receipts and Last Seen Option
On Android and iPhone, it is the authorized method for reading WhatsApp messages without actually notifying the receiver. The sender will never be aware that you have read any message if you disable the Last Seen and WhatsApp Read Receipts options.
Furthermore, no one would be able to see your last seen status, which is just another benefit if you do not want people to be aware of your Whatsapp activity.
In order to remove the Last Seen and Read Receipt option, follow these steps:
Step 1: Open the most recent WhatsApp version.
Step 2: To access 'Settings' on an iPhone, look in the lower right corner of the screen. On an Android device, tap the three dots to access Settings.
Step 3: Go to Account ➡ Privacy ➡ Turn off 'Read Receipt" toggle. Additionally, don't forget to select Nobody under the Last Seen option.
Now, you no longer need to be concerned about those blue ticks, and it is now simple to read Whatsapp messages without the other person knowing about it.
Notes
Selecting "Nobody" for the last seen status prevents you from viewing the last seen of other users.
Method 2: Utilizing the Notification Panel
Both Android and iPhone users can read and reply to messages in WhatsApp directly from the notification panel without having to open the app.
However, there is a drawback to this choice. Long messages, images, videos, documents, and other content are not viewable. Only a portion of the text message is visible in the notification panel.
Although it has some restrictions, it can still be useful for a lot of users. Here's how to read and respond to messages without opening WhatsApp.
Step 1: Open the updated WhatsApp application.
Step 2: Next, go to "Settings".
Step 3: Scroll down to the Notification section, where you can "Turn on" Show Notification and Show Preview.
Simply close the app now, and any messages you receive will show up in the notification panel for you to read and respond to.
Method 3: Read Whatsapp Messages from Android Widget
Android users, you have an additional way to read messages without opening the chat. This option to secretly read the messages is to use an Android widget.
The WhatsApp blue tick won't show up in the application because it doesn't need to be opened in the official WhatsApp application. Embedding this widget on your home screen will enable you to read and see messages privately.
Using an Android phone's widget, follow these steps to read chats:
Step 1: From the home screen, long-press on the screen to bring up a menu on your smartphone.
Step 2: Select Widgets from the menu to access the numerous shortcuts available.
Step 3: Next, look for the WhatsApp chat widget.
Step 4: You will then be presented with a variety of WhatApp widgets where you must select the 4*1 widget.
Step 5: Tap and hold the widget and drop it onto one of your home screens. Now, you can long-press the widget once you've added it to your screen to make it bigger.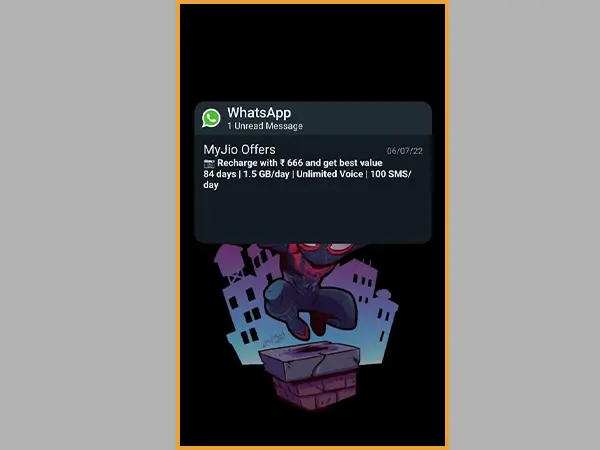 However, the downside to it is that you cannot view any images, videos, or documents through the widget. Furthermore, you will have to open the WhatsApp app for replying to any of those messages.
The inability to view all chat messages in the widget is another drawback of this feature. Only a few of the most recent conversations are chosen for display on the home screen widget.
Method 4: Turn On Airplane Mode and Read the Messages
Smartphone users have the misconception that enabling airplane mode allows you to read WhatsApp messages covertly. But the harsh reality is that it merely delays the "Read Receipt".
The "Read Receipt" will be sent to the person once you have read the message using this trick and turned off airplane mode. The only advantage of this trick is that it helps you to buy some extra time to consider what response is appropriate for the messages.
Well, it does work in a few situations for some people. So, if you want to use this trick, follow these instructions:
Step 1: Swipe down the notification panel/control center after you receive the message and activate airplane mode by turning on the toggle.
Step 2: Now you can read the chat without having the pressure of messaging instantly. After you have settled your thoughts, reactivate airplane mode.
But as soon as you open WhatsApp, those 2 blue ticks will appear beside the message indicating to the sender that the message has been read.
Method 5: iPhone 3D Touch Allows To Peek into Messages
iPhone.
3D Touch.
Can you connect the dots?
iPhone users love the 3D touch function and it can also be utilized to read Whatsapp messages without opening the chat. It allows previewing shorter chats. However, only iPhone 6s and later models support 3D Touch functions.
Follow these steps to read messages via this method:
Step 1: Open WhatsApp but do not open a chat.
Step 2: Click and long press on the chat window you want to read to enable the 3D function.
Step 3: Without opening the chat, a window will appear that will allow you to peek inside the conversation.
Step 4: Just keep in mind to click outside of the 3D window. If you don't, Whatsapp will send the read receipts when you enter the chat box.
Again, keep in mind that this iOS feature is that you can not view or read the long conversation of any chat.
Method 6: Unseen- NO Last Read App
If you're not satisfied with the shortcomings of some methods mentioned above, you can always use third-party apps like the "Unseen" app to view WhatsApp messages without opening them or alerting the sender.
Step 1: Install the Unseen app from the Google Play Store on your Android smartphone or tablet device.
Step 2: Open the Unseen application on your device after the download is complete.
Step 3: Click 'Ok' and grant notification access to the Unseen app on the pop-up that appears.
Any new WhatsApp Messages that you receive from your Contacts going forward will appear in the Unseen App. As a result, even though the message has been read within the Unseen App, you will be able to read all of your WhatsApp messages without getting those blue tick marks.
Additionally, this application is also compatible with other major messaging platforms like Messenger, Instagram, Viber, Telegram, and line.
Notes
Unfortunately, hacking has been a frequent occurrence in the digital world, and as technology has advanced, Whatsapp hacking has become more prevalent recently. So, always do proper research and be aware of some fraudulent third-party applications.
Ending Note
Perhaps the most popular messaging platform right now is WhatsApp. It is undoubtedly the undisputed champion of this era of social media platforms.
Reading WhatsApp messages secretly gives you the privacy you need to focus on your work without interruption. Additionally, it gives you time to consider your response before replying.
You might find multiple notifications annoying if you are working or sleeping after a long day. It's a depressing situation. Therefore, in this instance, turning on these features will provide some space away from people.
I tried to cover the majority of the information regarding your question about "how to read Whatsapp messages without opening Whatsapp?". This is a great way to avoid anxiety and unexpected stress, which can also aid in mental well-being.
I hope it helps.
Your Friend.
Signing off!