Are you a dedicated user of Telegram? Then you must be very well aware of all the login issues that accompany this messenger app. As the app is a bit new in the instant messaging world, new users might find it difficult to deal with login issues with Telegram on their own. If you are one of them, this comprehensive guide has been put together just for you. All the possible login issues have been listed along with their solutions; so just keep on reading and see what works for you.
List of Common Login Issues with Telegram
Login Code not received
'Too many login attempts' error message
Internal Server Error
Limit Exceeded
This Phone number is banned
Forgot Cloud Password/ Two-Step Verification Password
Basic Troubleshooting
Before you go on trying the solutions provided further, make sure you meet all the minimum requirements to log in to your Telegram account, and have performed the basic troubleshooting as follows:
Is the Telegram service down? This is the question you need to answer before you start blaming anything to face the log-in issue. Just like any other service, Telegram can also go down on several occasions and may stop working for various reasons such as maintenance or if the server is facing an outage. This could be the reason Telegram is not working today. That you need to check by visiting this useful website downdetector.com and check if anything is wrong with Telegram. Here is the link- https://downdetector.in/status/telegram/

When you visit this link, you will see if other Telegram users have also reported this issue or not, or it is just you who is dealing with it. Moreover, you will find one red button that says 'I have a problem with Telegram', click that and fill up a form to get some help. Also, if everyone is facing the same issue, it means there is some internal server error, and you will have to wait till it gets fixed by the administrators.

Here is how the screen looks like-



Are you able to use other apps or websites? This will let you know if you are facing issues due to poor or no internet. A strong network is what you need to be able to log in to Telegram; if you don't have that, make sure you wait till the connectivity gets restored or just switch to a better network, if possible.
Now let's have a look at all the solutions that are going to help you deal with different Telegram login issues.
Solutions to Various Telegram Login Issues
Depending on the issue you are encountering with Telegram messenger, here are all the solutions that are going to help you; so look for the error you are facing and apply the solution accordingly:
1. Too many attempts, please try again later
Issue- The 'Too many attempts, please try again later' error shows up when you have made excessive login attempts; for security reasons, your account gets locked.
Solution- In this case, you will have to wait 24 hours for the temporary lockout to get over, and then you can try to log in again normally.
To know if 24 hours are over or not, you can go to web.telegram.org and then try to log in to your Telegram account. Click on 'Show technical details' and you will see the timer with the exact amount of time that is left for the lockout period to get over.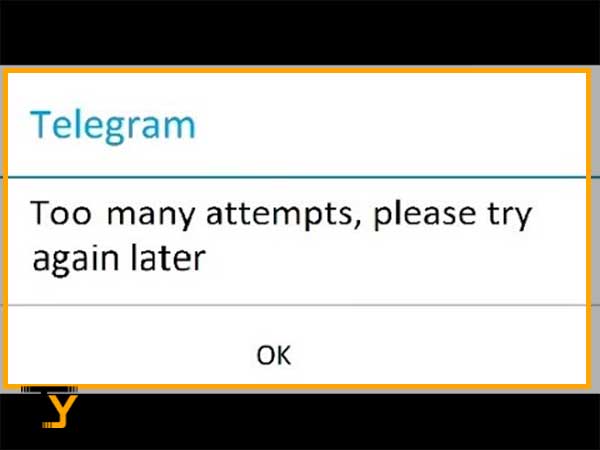 2. Login Code not Received
Issue- The next most common login issue with Telegram is when you are not receiving the login code to get access to your account.
Solution- Firstly, you need to know that when you try to log in to Telegram on a different device, you get the code on the Telegram app and not via SMS. However, you get the option to choose to get the code via SMS only then you will get it through text message on your phone number. So, make sure you check the Telegram app as well. And also, ensure the internet or your mobile network is working fine. If you use different mobile numbers, you need to check the one linked to your Telegram account.

Here's how the login code looks like-
3. Deleted Telegram Account
Issue- If you have recently deleted your Telegram account, and are trying to log in again, you won't be allowed to do so. The reason is, a Telegram account gets permanently deleted once you have hit the 'Delete' button.
Solution- A Telegram gets permanently deleted, and you get no chance to recover it. The only option is to create a new Telegram account, and that too not the same moment you have deleted your account. You will need to wait for some days before you can create a new account.
4. Limit Exceeded/ Internal Server Error
You will see the error message 'Limit Exceeded' or 'Internal Server Error' when you have deleted your Telegram account multiple times.
Solution- You will have to wait for a couple of weeks before you can again sign up for a new Telegram account, otherwise this error message will pop up. That's how you can fix this login issue with Telegram.
5. This Phone Number is Banned
Issue- 'This phone number is banned' error message appears when your phone number gets banned by Telegram for various reasons.
Solution- If you think this has happened accidentally, you can report this error by sending a DM on Twitter along with your phone number at- https://twitter.com/smstelegram
6. Reset Telegram's Two-Step Verification Password
Issue- If you have enabled two-step verification for your Telegram account, you will be required to enter the password whenever you will log in on a new device. Also, known as cloud password, if you have forgotten the password you have set, you won't be allowed to log in.
Solution- to log in to your Telegram account on a new device when two-step verification is enabled, you will need to enter the password. In case you have forgotten it, you can easily reset it using the recovery email address you have provided to Telegram.
Just click on 'Forgot password' and enter the code you have received on your recovery email address. After entering the code, you will be allowed to reset the password and set a new one.
Then enter the newly created password, and you will be successfully logged in to your Telegram account.
That was all for the login issues with Telegram and how you can deal with it. Hopefully the guide helps.