Are you not receiving new emails on your AOL mail account? If yes, then there is nothing new about it, as email giants like AOL are always surrounded by certain errors and glitches. In my last piece of writing, I explained how you can fix if 'AOL is not sending emails'. Then I realized that this can be an issue as well when you are not receiving new emails on AOL.
So, this guide will walk you through the reasons why you are unable to receive new AOL emails and how you can fix that.
Reasons Why AOL Email is Not Receiving Mails
If you are not receiving emails on your AOL email account, this could be a matter of concern, hence, needs to be dealt with accordingly. Before you skip to the solutions listed further, make sure to go through the list of reasons for facing the same; so that if next time this error occurs, you will be able to deal with it without support.
There is no network or signal strength is poor
AOL server is facing some issues or is down for maintenance
The sender has mistyped your email address
The file format is not supported by AOL
The emails might have landed in the wrong folder.
Email Forwarding is on
The filters you have set for your AOL account have been set incorrectly
You have unknowingly blocked the sender, hence not receiving the emails from them.
Antivirus or firewall installed on your device
So these are the possible reasons why you are unable to receive AOL emails.
Solutions to Fix AOL Not Receiving Emails
If you are not receiving any emails on your AOL email account, this can hamper your routine email work. So, here are some working solutions to help you get out of this error that has been explained in a comprehensible manner:
1. Give your Device a Restart
A basic one but a quick restart to your device can fix the minor glitches of your device that includes issue with receiving emails. Sometimes due to continuous use, the device starts lagging, ultimately taking too long to receive new emails.
So, no matter if you are using your AOL mail account on your PC or mobile, restart the device and let it re-establish the network connection. Once your device is connected to a network, you can again log in to your AOL account and see you have got new emails.
2. AOL is Down?
AOL can be down at times due to multiple reasons and if it is down, emails might take longer to reach your device. Hence, it should be your next step to check if servers at AOL are working fine or are down for maintenance.
Here is the link to check if AOL is down today- AOL Server Status
If the page shows any issue with AOL, you will need to wait for some time till it gets resolved. In case, AOL mail is doing fine for other users, you can proceed to try the next solution.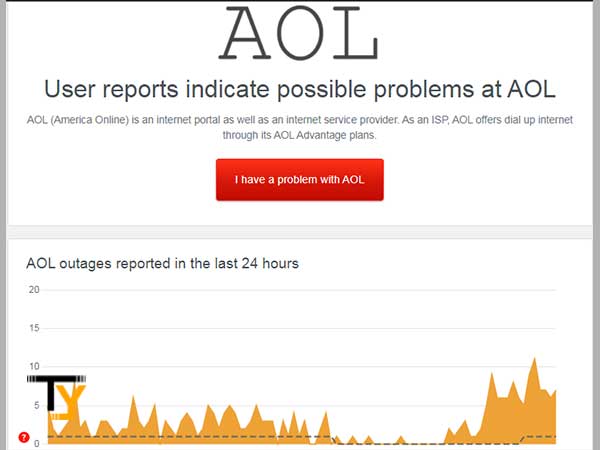 3. Inspect your Email Filters
We all set some filters in our email accounts to organize the mailbox in a better way and segregate the important incoming emails from the unimportant ones. This will save you some time in finding the emails that you are looking for.
Setting incorrect email filters can be the reason you are not receiving the emails you were expecting. The genuine emails might have been directed towards the Spam folder or any other folder that is not supposed to receive that particular email.
If you realize that you have mistakenly created the wrong filters, you can delete them for now and then recreate them later. Deleting all your email filters will move all the emails back to their original folders.
You can easily delete a filter by clicking the 'X' next to 'Edit'.
Notes
Sometimes the emails can also end up in the 'Spam' folder, hence you should carefully look into each of the folders for the missing emails.
4. Email Forwarding is ON
Email Forwarding is another useful feature offered by AOL mail service. This lets you forward all your incoming emails to another email account that you use more often.
You might have enabled the email forwarding feature for your AOL mail account & have forgotten about it completely. This can be the reason you are not receiving any new emails on your AOL account. If it is enabled, you can easily disable it from the AOL settings section.
5. Browser Optimization
If you are using your AOL mail account on a browser, it needs to be optimized to get the best out of it. Here are some points that you need to check in order to analyze your browser and make the required changes to fix problems with AOL mail:
Firstly, you need to verify that the browser you are using is up-to-date. Also, ensure that the browser is compatible with AOL. Here on this page, AOL has provided all the information regarding their compatible browser and how to update each one of them- https://help.aol.com/articles/download-or-upgrade-your-web-browser

For instance, Internet Explorer is no longer supported by Microsoft, hence is not upgradable. So, you should avoid using it to avail of AOL email services.
Secondly, browsers keep on storing the websites you visit in the form of temporary files, better known as a cache. These files are of no use except they take up some storage space of your device. Similarly, cookies and browser history needs to be removed from time to time so that the browser can function at its best.

Navigate to this link to know more about how to clear the cache on a web browser- https://help.aol.com/articles/clear-cookies-cache-history-and-footprints-in-your-browser
Notes
Clearing the browser's history will not delete your bookmarks, only the recently visited websites.
Most internet users keep pop-up blockers installed on their devices in order to dodge the annoying ads; you might have done this too. This is no doubt helpful but could be the reason AOL mail is not receiving emails.

So, you can try to temporarily turn off your pop-up blocker or you can also ensure that you have added AOL Mail to the list of sites you allow pop-ups from. If you are facing login issues with AOL, you should definitely try this. For more info, go to:- https://help.aol.com/articles/disable-or-enable-pop-ups-using-internet-explorer
The last step you can take if you are still not getting AOL emails is to reset your browser to its default settings. Resetting your browser will delete all the adware and extensions you didn't install; ultimately improving the overall performance of the browser. Doing this will also reset your browser's security settings. Visit the official AOL link to know more about restoring your browser to its defaults- https://help.aol.com/articles/reset-web-settings
Notes
Restoring your browser will also delete other saved info like bookmarks, stored passwords, and your homepage. So, to avoid losing the important information, check thoroughly what information your browser will delete before resetting it to defaults.
Fix AOL Not Receiving Emails on Third-Party Apps
Another scenario where you may find AOL is not receiving emails is while using it on third-party email service. If that is the case for you, you will need to check if you have entered the correct AOL server settings.
IMAP and POP3 are the protocols that are responsible for the incoming emails; you have to select one of them to start receiving emails from a third-party email client.
IMAP stores all the emails on the mail server and not on your device, as that makes the information easily accessible; you will automatically receive all the emails whenever your device is connected to the internet.
If you are going to select POP3, the information will only be stored locally; this makes it possible to read all the emails even in the absence of a network.
Here are the IMAP and POP server settings that you need to enter correctly while settings up your AOL mail account on a third-party email service:
| | | |
| --- | --- | --- |
| Protocol | Server Settings | Port Settings |
| POP3 | Incoming Mail Server: pop.aol.com | POP3-995-SSL |
| IMAP | Incoming Mail Server: imap.aol.com | IMAP-993-SSL |

Related Post