Do you want to keep your iPhone's location private from your contacts?
Do you wonder, is there a way to stop sharing locations without notifying the other person?
In the modern digital age, location sharing is one of the most commonly used functions. Your family and friends may easily find you or your device by using the location-sharing feature on your iPhone.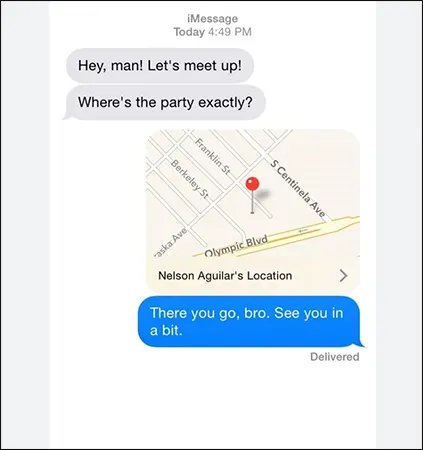 This feature is very helpful in a variety of ways, including allowing friends and family to contact you in case of an emergency and allowing you to find your iPhone. If you and your friends share your locations with each other, you can easily locate each other when you are meeting up with them.
However, there are instances when you simply want to travel somewhere without notifying others and you want to keep things private. It can be challenging to stop sharing location without notifying iMessage if you routinely allow other people to track your iPhone through iMessage, either for work or security.
With the help of this article, we will explain how to stop sharing locations on iPhones without them knowing. Let's go!
Why Do You Need to Stop Sharing Locations?
Location sharing may not always be desirable, there can be some instances where you may want to stop using this feature. Here are some of them:
While it is a useful feature, sharing your location can also give insights into your daily routine.
You may want to avoid a specific someone and maintain privacy for personal reasons.
To conserve your device's battery, it requires constant use of GPS which can drain your battery health quickly.
You may want to turn it off temporarily, to enjoy some time away for your peace of mind.
Can You Stop Sharing Location Without Notifying?
Yes, you can avoid sharing your location without notification in a number of ways, such as by turning off "Find My Friends" or "Find My iPhone". One can also do that by turning off "Share My Location" or by utilizing another Apple device.
People won't be able to locate you in real time once these features are disabled. All of these techniques exclude sending alerts to users about the same. But you need to keep in mind that they will receive a notification once you reactivate the sharing with them.
Now let us quickly learn how to turn my location off without someone knowing in the following sections.
How to Stop Sharing Location Without Them Knowing?
Whatever may be the reason, there are many different ways to tackle this situation and effectively stop sharing locations without notifying another person.
Method 1: Turn on Airplane Mode
A network connection is necessary for the location service to track your iPhone. Turning on airplane mode is a quick and easy way to temporarily stop anyone from knowing your location. Almost all mobile phones come with this built-in capability.
Thus, you can prevent others from discovering your precise real-time location by switching on airplane mode. In Settings, you can turn on airplane mode for your device. You can find the Airplane Mode near the top of the screen and it can be activated by tapping the toggle.
Swiping down the lock screen or the home screen from the top right to access the Control Centre is another option to activate airplane mode. On the upper portion, you will notice an airplane icon. You must tap on it for it to change color and become enabled.
Notes
You won't be able to access cellular networks, make calls, or receive texts if you turn on Aeroplane mode.
Method 2: Use Another Apple Device as Your Location
A distinctive feature of the iPhone lets users share their location with another iPhone or iPad. You can stop sharing your current location in real-time if you share the location from another device. You can change to a different device in the Find My app as long as both of your iOS devices share the same Apple ID.
It's a terrific choice if you want people to believe you're still at home while you travel away.
Step 1: Tap on Settings on a different Apple device with the same Apple ID.
Step 2: Tap on your Apple ID settings on the top.
Step 3: Now, tap on "Find My".
Step 4: Select "Use this iPhone or iPad as My Location".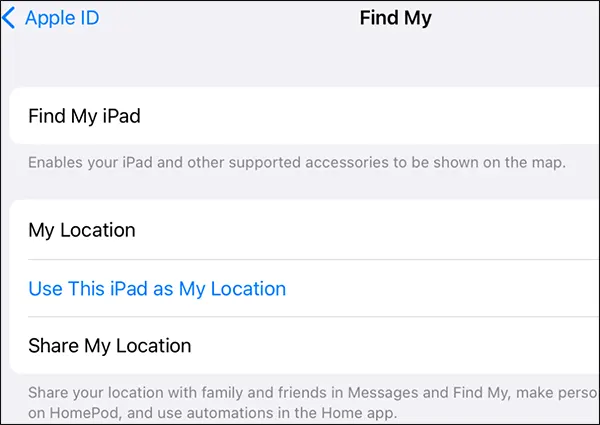 From this point forward, people will only be able to observe this device's location. You can place this device anywhere you want and thus you can easily trick other people about your whereabouts.
Method 3: Turn Off Your Location Services
Another method to stop sharing your device location without notification is to completely switch off your location services on your device. It is also favorable for those folks who do not want their apps to track the location. But please keep in mind that your location will not be updated on your device anymore after you disable this feature.
Learn how to turn off my location without them knowing:
Step 1: Tap on Settings of your device and choose "Privacy & Security".
Step 2: Click on Location Services.
Step 3: You will need to turn off the toggle to disable the location service of your device.
Method 4: Disable Find My iPhone
Your location will no longer be visible to others if you disable "Find My iPhone". However, if you lose your iPhone, you will not be able to find it either. So, this method to stop sharing locations without notifying iMessage comes with a complementary disadvantage.
As a result, you should be cautious when you turn off this feature. To learn how to turn off location without notifying by disabling "Find My iPhone", follow these steps:
Step 1: Go to the Settings app.
Step 2: Tap on "Find My" > "Find My iPhone" after clicking on your name.
Step 3: Just tap on the green bar to disable the feature.
Method 5: Use GPS Spoofer to Set A Virtual Location
You can spoof the location with a variety of software available on the market such as iToolab Anygo, AnyTo's iMyFone, etc. This is a great method to keep your current location a secret from others. Let's take the example of AnyGo as a GPS spoofer to move your iPhone's current location to any fictitious location.
Step 1: Install AnyGo on your computer.
Step 2: Launch the software and click on start, meanwhile connect your iPhone to your desktop.
Step 3: Choose the Teleport button in the top-right corner.
Step 4: Enter the address you want to choose and click on "GO" once your desired location pops up on the screen.
How to Stop Sharing Location With One Person Without Them Knowing?
One can use the following two methods to stop sharing locations with a specific individual.
Method 6: Use Find My App
The official Apple app for locating your device is "Find My". For anyone curious about how to stop sharing your current location with one person without them knowing, Find my app is the solution for you. You can do that by stopping sharing the location with that particular individual.
In order to disable your location on the Find My app:
Step 1: Tap on the "People" tab on the Find My application.
Step 2: Tap the name of the person with whom you want to stop sharing your location.
Step 3: Click on "Stop Sharing My Location".
Notes
You can also stop sharing locations for everyone by disabling this feature from the settings app. Go to Settings > Your Name > Find My and just turn off the green bar of "Share my location".
Method: 7 Use iMessage
This method below will help you disable location sharing without notifying iMessage.
Step 1: Open iMessage on your iPhone.
Step 2: Choose a conversation with one of your contacts.
Step 3: Tap on the contact's name and then tap the info icon.
Step 4: Click on "Stop Sharing My Location"
How to Know If Someone Stopped Sharing Location?
The easiest way of knowing this is by checking your list of friends on the "Find My" app. Here's how you can check:
Step 1: You can visit the "Find My" app to see if someone has stopped sharing their location on an iPhone.
Step 2: Then, go to the "People" section.
Step 3: All of your family and friends who have decided to share their locations with you will be listed on this page.
When someone stops sharing their location with you, you won't be able to see their names on that list anymore.
Alternatively, you can also find out this information by checking a person's contact card in the Messages app. Here, you will find that a little map icon will appear next to their name if "Share My Location" is enabled with you.
Notes
It's critical to keep in mind that location sharing is a personal decision and that someone may not necessarily be trying to hide something from you if they decide not to share their location with you.
Final Thoughts
When someone is trying to keep track of your whereabouts, it's crucial to have the option to stop location sharing without notifying the other person. This will keep your location safe and confidential.
We all have a right to privacy, and hopefully, the methods listed above in this article will let you keep your location private.
---