Do you want to create your own movies? Or are you learning to create videos? In both cases, you will be required to have software. Here I would like to ensure you that there is no need to worry anymore as I am going to showcase the overview, features, prerequisites, and much more required for creating a wonderful video or movie.
A lot of video editor or movie maker tools have emerged nowadays, earlier it was not possible to create the videos with such a little effort. One such tool which is free and sufficient to create highly customized videos is MiniTool MovieMaker, apart from this there are so many others available in the market, you can compare their features and cost before having them accomplish the task.
What is Movie Maker Tool?
The basic functionality of any Movie Maker tool includes creating videos or mini clips or slideshows using photos, clips, and music. Ahead of it, a movie maker allows you to cut, trim and join the video along with adding a separate layer of text or images. When it comes to advanced functionalities, it includes filter effect, a number of transitions, zoom effects, and many more. So, a movie maker tool is a house of several functions from basic to advanced.
Let's understand it with MiniTool MovieMaker, it is free to use and is capable of creating advanced videos. Also, it provides several templates using which you can create movies with amazing effects and transitions within a few minutes.
When it comes to GUI (Graphical User Interface), it seems handy. You can easily add media through the "import media files" option available under the media section. Later, you can add up pre-compiled transition, Motion, text, and effects simultaneously. You do not have to switch to a different window from time to time as all the functionalities are available under the same window.
Also, shown in the below image.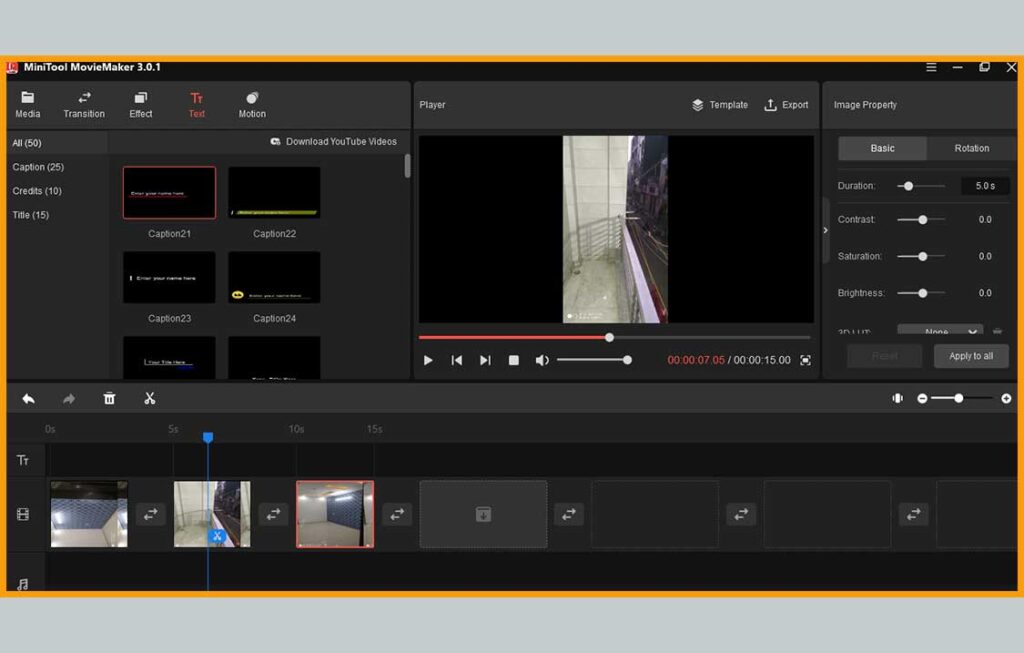 Now, you might have got an idea, why you should use Minitool MovieMaker. If you are interested to use it, you may go with its download link from here.
Features of Movie Maker Tool
If you are excited to use movie maker software you should know all its features, so that you could compare and decide which software is best suitable for you. Here onwards I am going to share some must-have features for video editing software. These are:
1. Attractive Transitions
A good video editor must have stylish transitions and also should be huge in numbers so that you do not get confined to the selected ones only. With the help of it, you can add style to any photo or clip during the creation time, and further, it leads you to create an amazing video. A few examples of transitions are cut, dissolve, fade to/fade from, light flash, particles wipe.
2. Quality Filters
The filter adds up the quality in the video creation and provides a clear and exciting aesthetic. If you possess quality creativity, you can make wonders with the help of filters available in the movie creating software. Also, if you are not well versed with the filter, there is no need of being panic as with little effort you can easily learn it. There is a huge list of effects some of them are Tint, Gaussian Blur, Radial Blur, Zoom blur, etc.
3. Splitting Attribute
If you have videos with a large duration, you can split them using a video editor. Further, using them you can create wonderful short clips which can be easily shared with friends, family, and colleagues. Also, if you want to remove a specific part from the large video, it is also possible. So, the splitting and trimming feature is of great use while editing the video.
4. Speed Controller
Speed Controller is a good idea if you want to skip a portion of a video. Also, it will shorten the duration as well as the size of the video. Eventually, this will reduce the rendering time that can ultimately soothe the video creation process. It is not tough handling the speed controller and can be learned with little effort.
5. Animation
Animations are being used in every sort of video. It helps video in attaining attractiveness and that ultimately leads you to finish up the great project. If you have not used it before, do not fret as it can be easily skilled within a few efforts. Some forms of animation are Traditional Animation, 2D Animation, 3D Animation, Motion Graphics, etc.
Apart from the aforementioned features, there is a huge list of the same.
So, after having discussed the features let's proceed with the prerequisite one should have.
Pre-requisites of Move Maker Tool
Before downloading or buying any software, one should keep in mind the minimum requirement that is needed in a computer system as without them you can not have the seamless functioning of the software. So, these requirements are:
Latest operating system
CPU (Intel i5 or better)
8GB RAM
Dedicated graphic card
SSD storage
Although several other features are meant to be taken care of, the above mentioned are must-haves for creating a video or using a movie maker tool.