is anyone else experiencing bugs on instagram? I'm getting a "failed to send message" prompt

— Shahly🇱🇰 (@PSGKAI) May 10, 2022
You must be somewhere in this Twitter thread too that started in May 2022, that's why you are here. Let's recall it for you, about a while ago, Instagram users used Twitter to complain about the 'Instagram failed to send message' issue they faced. Not just a few of them, but almost every other Instagram user was unable to deliver their messages.
So if you are one of the users facing the same and wondering about the 'failed to deliver try again' Instagram issue, you are at the right place. Here's everything you should know about Instagram failing to send messages and the reason behind the same.
Why Can't I Send Messages on Instagram?
Before moving to the solutions for failing to send messages on IG, you must want to know the answers to 'Why can't I send messages in Instagram group chats or personal chats?' Well, there could be various reasons for Instagram failing to send messages; we have compiled a few of them here:
There are chances that the Instagram server might be down because of which not just you but every Instagram user would face the same issue until it is resolved by Instagram itself.
Your app might be facing some technical error, try uninstalling it or clearing the app cache and try again.
You may have been sending messages to the user who has blocked or has temporarily disabled their accounts.
Maybe you have a rather slow internet connection due to which the app is unable to send the messages.
Now that you have comprehended what could be the reasons for failed to send message Instagram, let's move ahead and learn how to resolve the issue.
How to Resolve the 'Failed to Send Message on Instagram' Issue?
It might be a little too bizarre when you find out that you are unable to send messages on Instagram, some people even want to retrieve deleted messages on iPhone, so this can really give them anxiety at some point.
But now that you know why you might be receiving the failed to deliver try again Instagram notification, you can now work on the solutions for the same. Here are some solutions that you can undertake and resolve the issue manually.
1. Check Your Internet Connection
Just like mentioned above, if you don't have a stable internet connection, you are even more likely to face this issue. So before hopping onto many technical fixes, try the basic ones. Check your internet connection and check its speed. If everything is alright and still your Instagram failed to send message, try some other method.
2. Relaunch the Instagram App
Now that we are starting with the basic steps only, it's better that we try everything first and then seek technical help for the same. The next you can do is try relaunching the Instagram app for once. There are chances that there's some minor glitch because of which you can't send Instagram posts to group or send messages on the platform.
Simply remove the app from the recently closed tab and try operating the same again once.
3. Check If There's a Pending Update
Maybe you are using an outdated version of the app because of which your app is lagging in some features. Visit your respective App Store and see if there's any pending update for the app. If there is, update the app to the latest version and see if your IG failed to send message issue is resolved or not. If not, continue reading to know what to do next.
Instagram Updates-
4. Try With a VPN
This method is especially for those users who are unable to initiate a Direct Message on Instagram. If you are sending a DM on Instagram for the first time, you may face some interruptions in it and wonder why can't I send posts on Instagram. For this, you can use a VPN.
All you have to do is close the app, launch your VPN, and set the location to somewhere else. Then launch the app again with the VPN. Try sending the message now and most probably you'll get success in it. Now it's up to you if you want to leave the VPN on or off because the Instagram DM will start to work normally now.
5. Check If Instagram is Down or Check the Server
Well, after all, it's just an app, it can be down sometimes leading to preventing the operation of some of its features. If the app itself is down, there's nothing that you can do at the moment. You can just check if it's down and if it is, all you can do is wait. You can use Downdetector for the same to check if the app is down or if there is something else.
Or there might be an issue with the server, which is leading to the failure to send messages on Instagram. In this case, either the entire app is down, or some of its features aren't in operation, and hence, the direct message feature can be one of them too. In fact, this is nothing bizarre. It has happened quite a few times in the past as well.
6. Deactivate and Reactivate Your Instagram Account
If none of the above steps worked out for you, it's time to start with something a bit technical. Starting with deactivating your Instagram account for just a little while and then reactivating it.
Do keep in mind that you can't deactivate your Instagram directly from the app, you will have to log in to the account on a web browser, and then you can start with the same.
Once done, reactivate your account after a while and see if you have achieved the key to the 'how to fix failed to send message on Instagram' issue or not. But do remember that you will have to log in to your Instagram account back once you reactivate it. You will also have to enter the security code and if you are somehow unable to receive Instagram code, there are plenty of solutions for that too.
7. Uninstall and Reinstall the Instagram App
Just like deactivating and reactivating your Instagram account has the potential to resolve the failure to send message IG, uninstalling and reinstalling the app has the same potential, and you never know what could work out for you.
Simply uninstall the app from your device, wait for a few minutes, and install it back from the respective app store. Here's how:
For Android-
Tap and hold the Instagram app from the home page and from the appeared set of options, click on the Uninstall button.
For iOS-
Tap and hold the Instagram app icon from the home page and from the appeared menu, click on the Delete App option.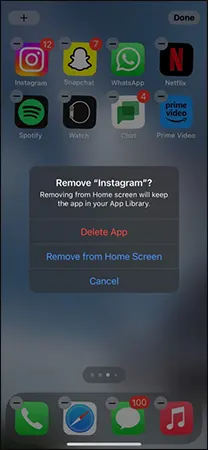 8. Login with Web
Another solution you can undertake to resolve the Instagram failed to send message issue is logging into your Instagram account via the Web. Simply visit https://www.instagram.com/, fill in your credentials in there, and login into your account. Check if you are able to send messages to anyone from there or if the problem is still intact.
But if you are able to send messages from the Instagram web version, it means that the issue is within your app. To resolve this, you can uninstall the app from your device, restart your device, and then install the app back on your device, this should solve your cant send Instagram posts to group or personal chats.
9. Maybe the Other Person Has Blocked You
Bitter truth it might be, but let's face it, if everything's going fine, there are high chances that the person you are trying to send a message to but are somehow unable to is the one who has blocked you.
On Instagram, when person A blocks person B, person B will be able to see person A's Instagram profile but won't be able to follow, send messages, or see any of their activity. This is why you may not notice that the person has blocked you and keep on texting them like a rookie.
Conclusion
And that's all you can do to resolve the Instagram fail-to-send message issue manually. If nothing worked out for you, it is advised that you contact technical help then and see what they have to offer. Maybe there's a major technical issue because of which you are unable to resolve the issue manually. Contact Instagram Help Center and they'll see what the matter is.