Dubai is called the 'the Manhattan of the Middle East' and Dubai Marina is often mentioned as the 'Venice of Dubai'. Being the most Instagrammable spot, it has a variety of lavish lifestyle options to offer to visitors.
The man-made place is spread over a vast expanse of more than 3 km, with high-rise residential towers with stunning sea views. From enjoying a drink on a yacht to shopping for your favorite international brand, Dubai Marina is a haven for entertainment.
Many Instagram influencers like models, content creators, travel bloggers, and designers flock to this dream destination. The amazing walkways and international cuisines are also some exciting activities that the developers of Dubai have curated to attract tourists.
This article will provide a panoramic view of Dubai Marina, and the reasons it's a popular spot for Instagrammers around the world.
Luxurious Residential Towers
Instagram is the best social media platform to inspire people with visual elegance. With stunning views from the apartment, it is a perfect opportunity to display your surroundings.
Dubai Marina has over 200 luxurious residential towers that have futuristic architecture and modern interiors. The large glass panels and terraces offer a romantic scene of the outdoor beach during the day. The night sparkles as brightly as the stars, with buildings lighting up for a perfect night out or for celebrating a special occasion.
It is indeed a remarkable destination with many expatriates eager property for sale in Dubai Marina, UAE to expand their business.
The weather compliments the living space and outdoors with clear lighting helpful for photographers. When at the beach or at a playground with family, enjoying a barbecue, or at the pool, your photographs will always attract more followers.
FUN FACT:
The marina has a Yacht Club that offers berthing facilities for over 500 yachts, including water taxis and water buses for transportation.
Variety of Hangout Destinations
Instagrammers are always searching for exciting new restaurants and unique hangout spots. In a place like Dubai Marina, there is something for every visitor. A camel ride at the nearest beach is only possible at this exotic location, and so is a relaxing Thai massage at a local spa in the city.
If you want to experience international dining and luncheon, then enjoy an authentic English breakfast or indulge in traditional Arabic cuisine. It is also known to be a sanctuary for shopping enthusiasts, with global brands displaying their latest merchandise.
For adventure seekers, the place has water sports like swimming, kite surfing, kayaking, parasailing, fishing trips, and much more. Influencers and tourists can be seen posing for photographs that make them go instantly viral.
There are plenty of family-friendly venues in Dubai Marina with an excellent opportunity for shopping, leisure, and dining. The islands at the nearby shorefront with easy transportation facilities are an enjoyable ride for an unforgettable experience.
You will never get tired of enjoying seasonal activities like street carnivals, al fresco movie screenings, and music festivals that are frequently organized in the outdoor mall area.
A Memorable Walkway
With the number of visitors being drawn to the varied cultures and modern facilities in Dubai Marina, influencers often want to capture artists. It has a beautiful walkway that stretches along the shoreline of the Pacific Gulf.
While walking, you can enjoy local gift vendors that are paved with numerous retailers and eateries. It is a wonderful pedestrian pathway with artistic displays thronging the streets.
As a food or travel blogger, the place has also organized many electronic music festivals and other entertainment options. Creating a large file of Instagram-worthy photos and videos is easier in a destination that provides so many diverse alternatives.
The graph below shows that Dubai is considered a trendy location for influencer marketing. The biggest reason is that it provides an exclusive and safe environment for tourists of every culture and nation.
The Vibrant Nightlife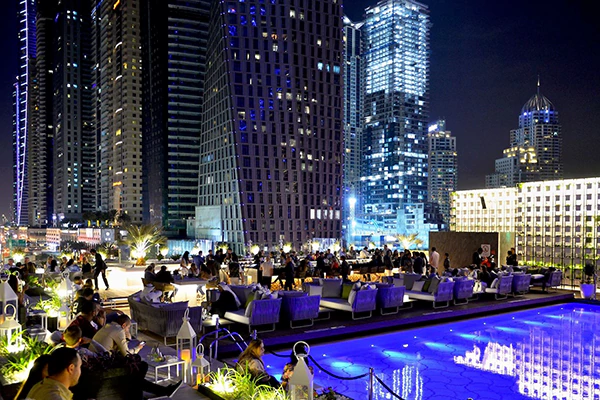 Besides the exotic locations, its transport facilities, and global cuisines, Dubai Marina's nightlife is not to be missed. Instagram's influencers want to provide their viewers with a complete vision of their adventures with many nighttime fun activities.
Organizing a party on a rooftop bar with your friends or dining at a five-star hotel is at the top of every influencer's bucket list. Rent an SUV and spend the night creating videos of the surroundings. The high-rise tower is a favorite backdrop for making a post become an instant trend and attract a lot of followers.
Besides all these, Dubai also tops the list of the world's safest cities. The government has imposed specific laws to curb crime rates and maintain public order.
Conclusion
Dubai Marina is a cosmopolitan city that has a diverse range of activities for Instagram influencers. It attracts international tourists because of its exotic and luxurious lifestyle along with organizing artistic collaborations.
When planning a backdrop with stunning architectural views whether indoor or outdoor, at the beach or from your living room, Dubai Marina is a perfect place. Creating reels and posts of the visit with friends or a partner becomes even more memorable in such a destination.
Technology has indeed played a vital role in helping developers create not just a tourist location, but an experience that attracts online followers. There are dedicated structures and installations especially for influencers to capture their special moments. All these remarkable photogenic spots have made Dubai Marina the most popular location for Instagrammers. 
See more on the official website https://axcapital.ae/
---