Comcast email is gaining more and more popularity in the world of email services. Logging into Comcast account is a matter of a few steps but like every other email service, there are problems that Comcast users might face, such as Comcast login issues. The range of reasons for login issues is quite wide; from simple CapsLock On to hacked or compromised account.
Here we will discuss all the essential factors that can help you fight back Xfinity login problems.
Reasons for Comcast Email Login Issues
The poor connection to the internet
Browser problems such outdated or incompatible browser
Xfinity Comcast server is down
The hacked Comcast email account
Incorrect Comcast configuration settings
Interference of Antivirus or Firewall protection
All Possible Solutions to Xfinity (Comcast) Login Not Working
Solution 1: Reset Comcast Email Password
To fix the Comcast log-in issues, people usually advise you to reset the password. Undoubtedly, it is the most suitable recovery measure when the password is the main culprit. Resetting is helpful in the case of a forgotten password, compromised or hacked account, and several failed log-in attempts. But apart from resetting or recovering your Comcast email password, we have several other recovery methods available for you.
Let's talk about how you can recover your Comcast email password.
Open your web browser and go Comcast login screen, by clicking on https://login.xfinity.com/login.

Now, on the Comcast sign-in page, locate the "Forgot Xfinity ID or password?" link and click on password.

Now, you will be asked for your Comcast email, username, or mobile number associated with your Comcast account.

Click on the Continue button to proceed.
On the next page, you need to enter the "Captcha" and then you will be provided with the recovery options available for your Comcast email account.
The recovery option will be your email address or phone number associated with your account. For example :-
Send an email to B***t9@xyz.com
Send a text message to my mobile phone (***) ***6429
Choose the one option and click Continue. After that, you will receive an email or text, depending upon the option you have select. If you select an email, you will receive a password reset link in your inbox. If you select a phone number, you will receive a verification code via SMS. the same code will be needed to be provided on the same screen
[Important Note: If you don't have access to your email or mobile number, you need to click on Try a different method link. Then, you will be needed to answer the security question that you have created during the sign-up process, Enter your ZIP code and click Continue.]
If you can successfully verify your identity, you will be directed to the Password Reset page.
On the Password Reset page, you need to create a new password and click Continue.
You will receive a confirmation message for the successful resetting of your password. Using the new password, you can now log-in to your Comcast email account.
Solution 2: Re-check Comcast Configuration Settings
When you are using Comcast on Android, email, or with other email services, it is important for you to set-up Comcast email settings properly. If the configuration settings are not correct, you are likely to face a Comcast email sending and receiving issues along with the login issue.
The correct configuration settings for Comcast email account are:
Incoming Mail Server Name: imap.comcast.net
Incoming Mail Server Port Number:

Recommended: 993 with SSL ON
Only if Needed: 143 with SSL ON

Outgoing Mail Server Name: smtp.comcast.net
Outgoing Mail Server Port Number:

Recommended: 587 (SMTP)
Only if Needed: 465 (SMTPS)

SSL Encryption: checked
Authentication: Xfinity or Comcast username and password required
Solution 3: Check your Internet Connection
If you are not having a proper speed of internet connection, you are likely to face log-in problems with Comcast email and other web services as well. Here are a few things that you must try if there is an issue with the internet connection.
Check the performance of your modem and router
Make sure internet cables are properly connected to your device
Your Comcast equipment is connected to the network
Restart the modem and router
Remove the obstacles between your device and the router.
Solution 4: Fix Browser Issues
Without a compatible browser, you can never log-in to your Comcast email account hence make sure you are using the browser that supports Comcast services. If your browser is compatible but you are still unable to access the Comcast email account, here are few tips that might help.
Clear your browser from history, cache, and cookies.
Update the version of your browser for optimum performance
Close the browser and re-open again.
Switch to a different browser.
Important Note:
We also suggest you keep your antivirus and firewall programs disabled while trying to access the Comcast email account as they can disturb the log-in process.
Solution 5: Check if Xfinity Server is Down
In case there Xfinity email is down or there is an outage, you are likely to face Comcast email problems especially the login issues, therefore checking the server performance is very important. If the server is down, you can't do much instead wait. So to check the server status of Comcast, go to https://downdetector.com/status/comcast-xfinity/.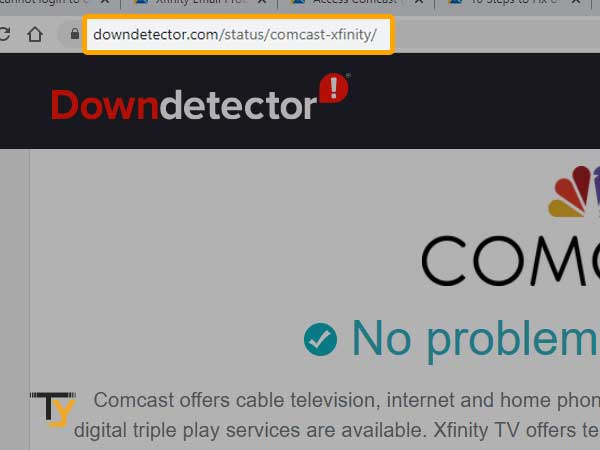 If you want to info about another email solutions, you can check below guide when you're having email login issues.