"Why do my calls keep failing?" is probably one of the frequently asked questions by iOS users.
Imagine how annoying it can feel when you try to call someone, but your calls get disconnected. Many iPhone users have complained about iPhone call failure issues. We understand how stressful it can be, just like the iPhone last line no longer available issue is, but do not worry; you are at the right place now. We'll cover you and help you to fix the iPhone calls that keep failing error.
Possible Reasons for "Why Does It Say Call Failed on My iPhone?"
Calls failing on an iPhone are a very common issue but should not be ignored because there can be numerous reasons behind it. Suppose you are in an emergency, and you need to call your friend or family urgently, and suddenly, 'iPhone call failed' pops up or its iPhone call failed to one number, what would you do then?
That is why it is important to solve the iPhone calls keep failing
Problem. Before jumping onto the solutions, we must first understand the reasons behind them.
Here are a few reasons why does it say call failed on my iPhone:
Weak network,
Device Settings,
Poor Internet Connectivity
The glitch in your Router,
Too many applications running in the background,
SIM card errors.
These can be the possible reasons for the iPhone Call Failure. It is time to check whether any of these factors are creating an issue in your iOS device. Let's now dive into how to fix call failure on iPhones in the next section.
How To Fix the "iPhone Call Failed" Issue?
In this section, we are providing all the fixes that you need to get out of the "iPhone calls keep failing" issue. You need to check first and analyze what works best for you.
Reboot Your iPhone
The simplest way to solve the "iPhone call failed" problem is by restarting your iPhone. This is the most common technique that usually resolves temporary technical issues.
To restart your phone, press the side and volume buttons and toggle the power off slider that will pop up on the screen.
If you face any difficulty in the above-written steps, you can opt for another method.
Open Settings on your device, go to the lower section in the Settings menu and see the General tab. Click on the General, then Shut Down.
Settings > General > Shut Down > Turn the slider
Switch off and on Your iPhone Airplane Mode
For fix number two, you have to go to your iPhone settings and then tap on the Airplane icon to turn it on. Wait for 1 minute, then again click on the same Airplane icon to turn it off. After doing this, try to make a phone call. It will surely work.
Reset iPhone Settings
This is a bit of a difficult step as it will delete all your information and applications from your iPhone. To initiate this step, it is recommended that you store all your mobile data and files in a safe space so that you do not lose anything after deleting them. Follow the steps below to reset your iPhone:
Firstly, go to Settings from the App Library.
Select General from Settings.
From General, click on Transfer or Reset iPhone.
Now tap on Reset, then select Reset All Settings.
Update Software
This can be one of the reasons for the failed calls as well. If you want your iPhone to work smoothly, you must update its software when it is notified.
To update the software, go to Settings, Move into the General Section, Click on Software Update, and Lastly tap on Download and Install.
Settings > General > Software Update > Download and Install
Check the Blocked Contact Lis
Your phone call can also get disconnected if the number you are calling is blocked. You need to go to your blocked contact list to check and remove the number. After unblocking the contact number, try to call again. Follow the steps given below to unblock the contact number.
Settings > Phone > Blocked Contact > (Contact Name/ Number) > Unblock
Get Your Wi-fi Checked
Wi-Fi can create some serious issues because of outages. It is advisable to contact your ISP (Internet Service Provider) as soon as possible to get your Wi-Fi network checked. This can also happen due to dispositioning of the Router and weather problems. If you are searching for a reliable ISP, you can contact Verizon to not get the iPhone call failed error in the future.
Re-insert Your SIM Card
For this method, you need to re-insert your SIM card. We know about the SIM card slot, right? With the help of the ejector tool, remove the SIM card, then after a few seconds rub your SIM Card with a soft dry fabric. Put your SIM card in the SIM tray and re-insert it.
Call *#31#
This is the simplest method to fix the "iPhone call failed" problem. You just have to dial *#31# on the dial pad and call.
Check Your Network Access
If you have tried the above methods, but they didn't work for you, you must check your network access. Your calls are likely to get dropped if your phone network is not accessible. Please keep in mind that resetting the iPhone network won't hamper your mobile performance or delete any of your files or data. Follow the steps to reset your iPhone network.
Settings > General > Reset > Reset Network Settings > Enter Passcode > Confirm Reset Network Settings
Check Your Call Forwarding Section
Call forwarding can be a big reason for interrupted voice calls. Make sure to turn it off. After you disable the call forwarding, try to call again. Follow the steps given below to disable call forwarding on your iPhone.
Settings > Phone > Call Forwarding > Turn off Call Forwarding toggle button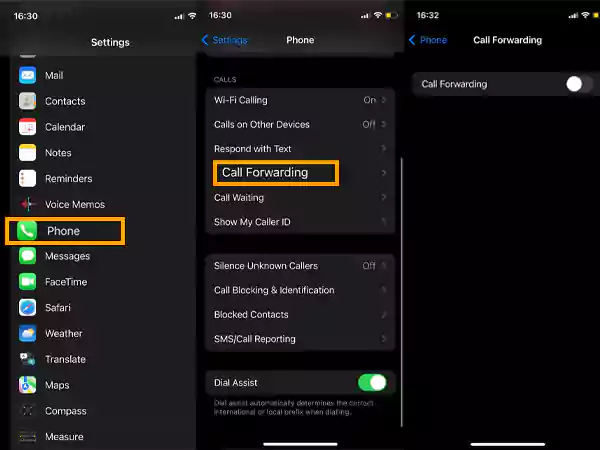 Final Thoughts
'iPhone calls keep failing' is a common issue that is faced by many iPhone users. There are some effective methods to resolve the problem. We have discussed the reasons behind the "iPhone call failed" issue and the step-by-step solutions. All the resolving methods that we have described are simple and can be done easily by anyone (you do not need to be tech-savvy). We hope that these methods will be helpful for you. In case you have tried all the methods but the issue persists, you can contact Apple Support for your assistance.
Sources