KEY TAKEAWAYS
Easily download Microsoft Solitaire Collection on your Windows PC from the Microsoft store, on your Android device from the Google Play store, and on your iphone from the Apple store.
3 alternatives to enjoy playing Solitaire.
In the realm of online solitaire games, Microsoft Solitaire stands tall as a favorite among enthusiasts. With its wide array of offerings and immersive gameplay, it's no wonder that many are drawn to its charm. However, the process of downloading this beloved game can sometimes leave players feeling a bit lost.
If you're one of those who have wondered about the steps to download Microsoft Solitaire, you're in the right place. In this article, we'll provide a straightforward guide to help you get started on your Solitaire journey. So, let's dive in.
The Complete Process to Download Microsoft Solitaire
Step 1: Getting Ready
Before diving into the world of card games, make sure you're using a device that can play them. Microsoft Solitaire Collection can be enjoyed on Windows computers, Android phones, and iPhones. Just check if your device meets the requirements.
Step 2: Magic for Windows PCs (Microsoft Store)
If you're using a Windows computer, follow these enchanting steps:
Visit the Store: Look for "Microsoft Store" on your computer and open it like a treasure chest.
Search the Magic Words: Inside the store, type "Microsoft Solitaire Collection" in the search box and press Enter.
Uncover the Spell: When the game appears, click on it to open the magical page.
Install the App: There's a button that says "Install." Give it a tap, and the game will start to appear like magic on your computer.
Enter the Enchanted World: Once the game is fully downloaded, find it in your Start menu or by searching for "Microsoft Solitaire Collection." Click, and let the fun begin.
DO YOU KNOW
More than 20 billion games of Solitaire are played each year through Microsoft's Solitaire Collection, making Solitaire the most-played video game of all time.
Step 3: Adventure for Android (Google Play Store)
If you're on an Android journey, follow this path:
Visit the Play Store: Open the Play Store on your Android device.
Search for the Game: Use the search bar at the top to type "Microsoft Solitaire Collection" and hit the search button.
Claim the Treasure: When you spot the game, click on it and then tap the "Install" button. Watch as the game sets sail onto your device.
Embark on the Quest: Once it's done, find the game in your app drawer or on your home screen. Tap it, and the adventure begins.
Step 4: For iPhones (App Store)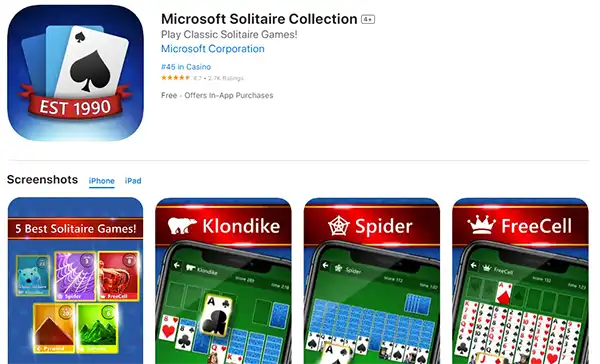 For iPhone adventurers, here's your map:
Enter the App Store: Open the App Store on your iPhone – it's the one with the blue icon that looks like an "A."
Search the game: In the search tab, type "Microsoft Solitaire Collection" and hit search.
Claim the Prize: When you see the game, tap the "Get" button next to it. You might need to use your magic touch (Face ID or Touch ID) to confirm.
Start the Odyssey: Once it's finished, find the game on your home screen and tap it to start your solitaire journey.
You've now unlocked the door to a realm of card-playing adventures.
Alternatives Of Microsoft Solitaire Collection
Once you've mastered the art of Microsoft Solitaire, you might find yourself on the lookout for similar games with a unique twist. If you're craving a change of pace while still savoring the charm of card games, fear not. There are plenty of alternatives that offer different flavors of solitaire fun. Here are a few gems to consider:
Solitaired
At first discover the world of solitaire with Solitaired, your go-to destination for an incredible variety of over 500 solitaire games, including favorites like Klondike, Spider, FreeCell, and Pyramid. No need to worry about downloads or signing up; simply visit the website or app and start playing right away.
Solitaire brings convenience and fun to your fingertips. You can be a beginner or an experienced player, you'll enjoy features like the ability to undo moves, receive helpful hints, and track your game statistics.
This platform ensures a seamless experience across devices, allowing you to pick up where you left off, all without any distracting ads. Created by tech entrepreneurs, Solitaire has earned the trust of more than 10 million players worldwide.
It's available on the web, iOS, and Android, making it accessible to everyone. Even notable publications like The New York Times, The Wall Street Journal, and Wired have recognized its excellence.
Solitaire Showtime
Solitaire Showtime, developed by Jam City, is a captivating mobile game that puts a fresh spin on the classic TriPeaks Solitaire. Unlike traditional solitaire games, this version adds an exciting timer, pushing players to complete each game within a set time limit for an extra dash of challenge.
What sets Solitaire Showtime apart are the power-ups at your disposal. Earn these handy boosts by taking on challenges or watching ads.
They're your secret weapons to conquer the game, letting you clear rows of cards or shuffle cards between piles. But that's not all. Solitaire Showtime is also big on social engagement. Dive into tournaments where you can compete against fellow players or join clubs to earn rewards together.
Solitaire Fairytale
Solitaire Fairytale, developed by MAD Studios, brings a magical twist to the classic Klondike solitaire game in a free mobile app. With a fairy tale theme woven into its gameplay, the game boasts an impressive collection of over 2500 levels, each offering a unique theme and challenges. To advance through these levels, players complete tasks like clearing the entire cardboard or gathering stars.
Released in 2019, the game is available on iOS and Android devices, boasting over a million downloads. It has garnered recognition from sources like AppAdvice and TouchArcade, showcasing its popularity.
To join in the enchanting solitaire journey, you can download Solitaire Fairytale from the App Store or Google Play. It's a fantastic option for those seeking a fresh and whimsical take on the classic card game.
---