Interested in Chromebooks? Then you should know about the Google Pixelbook 12in and see what the laptop is capable of doing. The new 4-in-1 laptop is filled with features and functions that will make things easier for you.
From look to specs, the Google Pixelbook excels in every aspect of a good Chromebook. Since you are interested in the laptop, we have given you a complete review of the device, so you know what it can do and how it works.
This article will serve as the perfect guide for Google Pixelbook. Make sure to read every bit of information, as we have addressed every important aspect of the laptop, so you get everything you need from here.
Google Pixelbook 12in had everything it takes to become the top product in the market. Unfortunately, Google discontinued it in late 2022. The good news is that you can still buy the refurbished version of this laptop and even the original ones from sites like Amazon. So take a look at our review to see if it is a good option to purchase the device in 2023.
Google Pixelbook 12in Overview
Google Pixelbook sets a new standard for what a laptop can do. The first thing you should know about this device is that it is a 4-in-1 laptop. This means it will adjust to your needs and work as a Laptop, Tablet, Tent and go in entertainment mode.
Google Pixelbook 12in is equipped with the 7th Gen Intel® Core™ processor, making it one of the fastest laptops in the market. Capable of performing hard tasks, the 12in Pixelbook can handle your workload, so there should be no reason to doubt its capability.
Google Pixelbook is specially designed to support web apps. This supercomputer will allow you to access the Chrome Launcher by pressing a button. Being powered by the Chrome OS operating system, it is one of the most powerful devices you can find.
Despite the features and advanced configuration, the best part about Google Pixelbook is its design. The sleek and minimalistic design is a treat for the eyes, and it feels even better to hold the laptop in your hands, so owning it will surely have its benefits.
Google Pixelbook Specs
Before we get to the features and functions, we should clear out the Google Pixel Book specs, so you know what the device is made out of.
| | |
| --- | --- |
| Storage | 128GB, 256GB, & 512GB |
| RAM | 8-16GB (Depending on model) |
| Battery | Up to 10 hours from 41 Whr Battery |
| WiFi | 802.11 a/b/g/n/ac,3 2×2 (MIMO), Dual Band |
| Bluetooth | 4.2 |
| Ports | Two USB-C Ports & a 3.5 mm headphone jack |
| Display | 12.3" 2400×1600 (235 ppi) Quad HD LCD displayTouchscreen display with Pixelbook Pen support400 nits for using in bright areas 72% NTSC color |
| Processor | i5 & i7 7th Gen Intel® Core™ |
| Charger | 45 W Charger |
| Audio | Dual Speakers |
| Trackpad | Edge-to-Edge Trackpad |
| Camera | 720P @ 30 FPS |
| Sensors | 3-axis Gyroscope/AccelerometerAccelerometer (Lid)MagnetometerAmbient Light SensorMagnetic Sensor |
| Operating System | Chrome OS |
| Security | TPM Chip |
Google Pixel Book Specs are pretty impressive, and you won't get a device as impressive as this one in the market. Now that we have covered the basics, we can get to what's special about the device.
What's New About Google Pixelbook 12in?
Google Pixel Book Specs and Features are impressive enough that it can rival any MacBook and Surface laptop. It offers everything expected from a Chromebook, but there are also some features that are new to the market.
Here is what's new about Google Pixelbook 12in:
Google Assistant Button
Search Key for easy access to Web Apps
One-year membership of Google Play Music
Ultra Thin Design
These are the unique features you will get after buying the Google Pixelbook.
Google Pixelbook 12in Pros and Cons
Everything has its pros and cons, and if you're about to purchase the Pixelbook, then you should know what the device does right and what it gets wrong.
| | |
| --- | --- |
| PROS | CONS |
| Complete android support | Biometric login not available |
| Stylus support | PixelPen is sold separately |
| 10-hour battery life | Poor audio performance |
| 4-in-1 design | Too expensive |
| Stylish design | Better options available |
| Lightweight | Low-powered processor |
| Amazing keyboard | |
| Fast sensors | |
| Google Assistance | |
These are the pros and cons you will get after purchasing the Pixelbook. Now we can address more advanced information, like the Google Pixelbook Graphics card and its performance.
Google Pixelbook Features & Functions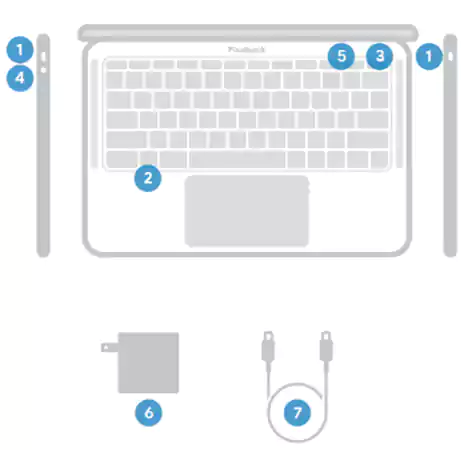 Google Pixelbook is a high-powered Chromebook, it is the perfect choice for those who want to invest in a good product. There is no reason why this product shouldn't be on the top of the market.
Even a product as good as this needs to excel in each category and be the best device for its users. Read below to read about what the Google Pixelbook graphics card can do for you, and see if the device goes through any performance issues.
Dimensions
Despite the impressive features, Google Pixelbook Dimensions are truly the best aspect of the product. The laptop weighs only 2.45 lbs (1.11 kg). Its dimensions are 290.4 X 11.2 X 220.8mm.
Graphics Card
This Pixelbook comes with an integrated Intel HD 615, so you can download the games according to that. The Google Pixelbook Graphics Card compliments its display and makes it even better.
Display
Google Pixelbook has a 12.3-inch display that offers a 2400 x 1600 at 400 nit brightness. The screen also supports touch input and can also be used by the Pixelbook Pen, so you can use your Pixelbook either through the keyboard, from the pen, or by touching it.
Storage and Expansion
There are a total of 3 storage options for the Google Pixelbook, and these are 128GB, 256GB, and 512 GB. All versions have different prices (prices mentioned below) and you would need to pay more for larger storage.
Unfortunately, you can't expand the internal storage of your Pixelbook, so make sure to choose the Google Pixel Book Specs that suit you in the long term.
Performance
When it comes to performance, the Google Pixelbook gets a mixed reception. While at first, there's nothing wrong with the Pixelbook, as you can use it to do anything you want, its processor is not powerful enough.
Though you won't go through any problems when using the Pixelbook, there will be times when its processor won't be able to handle your needs.
Now we have covered each Google Pixel Book specs, and now we can discuss its price.
Google Pixelbook Pen
Since the Pixelbook is a touchscreen device, it can also be used with a stylus. Your Pixelbook won't be completed without the Pixelbook Pen which is designed to work well with the laptop.
The pen is another high-powered advanced device that can even detect the angles and the pressure when you use it.
How Much Does Google Pixelbook Cost?
Though there isn't much wrong with the 12in Pixelbook, its high price is something that balances the good qualities and makes everyone lose their interest in the product.
Something which everyone agrees with is that the Google Pixelbook is extremely overpriced. When compared to its competitors, you'll see it is way more pricey than Macbooks and Surface laptops. With Microsoft Surface Windows 11 version laptop for students
It doesn't make much sense for the Pixelbook to be priced at $849, as not everyone can afford such a product, as you can consider buying a gaming laptop at that price.
For a lot of people, the most important aspect of a product is its price, as no matter how good a product is, it won't matter if it is not affordable. Google Pixelbook falls into the overpriced device category, and it won't be affordable to everyone interested in them.
There is more than one version of Google Pixelbook 12in, below we have mentioned each version with its prices:
| | | | | |
| --- | --- | --- | --- | --- |
| Processor | i5 | i5 | i5 | i7 |
| RAM | 8GB | 16GB | 16GB | 16GB |
| Storage | 128GB | 256GB | 512GB | 512GB |
| Price | $849 | $999 | $1399 | $1699 |
Notes
You need to pay an extra $99 to get the Google Pixelbook Pen.
Where to Buy Google Pixelbook in 2023?
There should be no doubt that Google Pixelbook 12in is an amazing device. Despite Google discontinuing the product, it is still available in the market. If you have decided to buy the product, we should tell you about the places you can buy it from.
Don't forget that Google is not making any more Pixelbook, so they are a rarity in the market, but you can still find them if you know where to look. Two sources you can trust to find the Pixelbook is Google's official page and Amazon's website.
We have included the landing pages to purchase the Google Pixelbook above. Apart from these two pages, you can also find refurbished versions of the Pixelbook. We would suggest you search on Google and go to the Shopping section.
Is Google Pixelbook 12in Worth Buying in 2023?
A device like Google Pixelbook is surely worth buying, but not in 2023. You can still buy it if you're interested in the product, but the purchase won't be that beneficial if you want to invest in a good laptop.
Though Google Pixel Book specs aren't bad, better options are still available that are less pricey than the Pixelbook. If not the Pixelbook, then you need to find something as good as this one. Lucky for you, you can buy its successor, Google Pixelbook Go.
The discontinuation of the Pixelbook was followed by a new version of the product, and that was Google Pixelbook Go. Anyone looking to buy the Pixelbook should take a look at Pixelbook Go and see what the device can do.
How Does Google Pixelbook Go Compared to Google Pixelbook 12in?
There isn't much difference between the two products, except their price. The Google Pixelbook Go is way more affordable than the Google Pixelbook. You can buy Pixelbook Go at only $649, and its most expensive version costs around $1399.
Comparing the Google Pixelbook dimensions with its successor, you'll notice that Pixelbook Go is slightly bigger than the Pixelbook. The only thing where the Pixelbook Go falls short is the configuration department, where it can't compare to the Pixelbook 12in.
In Conclusion
Pixelbook is an amazing product, but it is not made for everybody. Readers who like the Google Pixel Book specs and features should definitely purchase the product. One thing you should not forget is that there is another version of the Pixelbook, and for a lot of users, it is better to purchase that one.
Since buying a laptop is a big deal, be sure that you're not making any mistakes, and that you won't regret buying the Google Pixelbook 12in.
FAQs
Ans: Yes, the Pixelbook is perfect for gaming. The Google Pixelbook graphics card can support most modern games, which you can enjoy without any issues or problems.
Ans: Both Pixelbook and Pixelbook Go fall into the same category, but Pixelbook Go is a slightly larger device. When comparing the two, you'll see that Google Pixelbook's dimensions are lesser than its successor.
Ans: Yes, you can play GTA 5 on your Pixelbook. While most devices can't handle a game like GTA 5, Pixelbook doesn't fall in the same category.
Don't forget that GTA 5 came in 2013, and the Google Pixelbook graphics card is more than capable of handling a game that old.
Ans: Yes, Google Pixel Book specs are comparable to most MacBook devices, and in some areas, they are even better