BitLocker encryption is an essential part of the Windows operating system used for providing an extra layer of encryption and security on a drive. Although it is used to make a drive more secure, it also makes the data inaccessible without the right password or recovery key. Besides, if you have encrypted your drive, but it becomes corrupted due to system corruption, virus infection, or file system corruption, you will also suffer from data loss.
But don't worry, you can recover your data from BitLocker encrypted drives using iBoysoft BitLocker Recovery. It's a versatile data recovery utility that provides a BitLocker data recovery solution to retrieve your lost files from a BitLocker encrypted drive if it gets corrupted, formatted, or fails.
What is BitLocker?
It's a full-volume encryption feature designed for Windows by Microsoft. BitLocker is used to encrypt an entire drive to prevent unauthorized access to data. You can use BitLocker encryption to encrypt the internal hard drives of your Windows PC as well as the removable storage media, such as external hard drives, SD cards, USB flash drives, and many more.
BitLocker runs seamlessly on Windows Vista/7 (Ultimate, Enterprise), Windows 10 (Pro, Enterprise, Edu), Windows 8/8.1 (Pro, Enterprise), and Windows Server 2008 and later versions. You may never notice it is there until you want to encrypt data with it or recover data from it.
Use iBoysoft BitLocker Recovery Software for Different Data Loss Situations
iBoysoft BitLocker Recovery software released by iBoysoft is different from other BitLocker data recovery tools developed by other companies, as it needs a unique 48-digit BitLocker recovery key or the right password to provide access to your data. Although it's not always possible to recover data, the iBoysoft BitLocker recovery tool can help you in the following events.
BitLocker encrypted drive is not accessible: iBoysoft BitLocker recovery software makes it possible to restore data from an inaccessible, failed, or corrupted drive as long as you have the 48-digit recovery key or right password.
Lost or deleted BitLocker encrypted partition: This tool can find the lost or deleted BitLocker encrypted partition and easily help you recover data from it.
If you have formatted a BitLocker drive accidentally: If you have formatted your BitLocker encrypted drive by mistake and can't access your important files, the iBoysoft BitLocker recovery tool can help you get your data back.
BitLocker encryption stuck, interrupted, or failed: BitLocker is designed to work in the background of your system seamlessly. But it can fail or get stuck at times for some reason. iBoysoft BitLocker Recovery tool can help you retrieve your data easily and quickly.
How to Use the iBoysoft BitLocker Recovery Tool?
You need to find the password or 48-digit recovery key before using iBoysoft BitLocker Recovery. It's the most important step because you won't be able to use this software without the 48-digit recovery key or password. Follow these steps to recover data from BitLocker encrypted drive using iBoysoft BitLocker Recovery.
Step 1 Download and install iBoysoft BitLocker Recovery Software.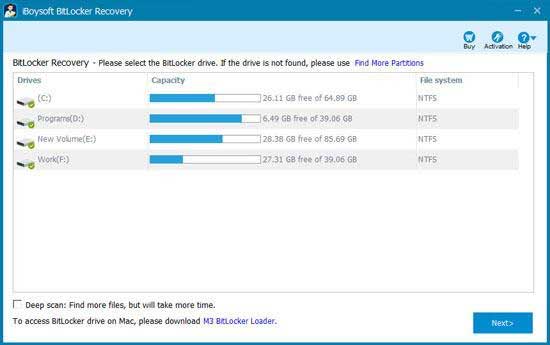 Step 2 Launch this program and select the BitLocker encrypted partition you want to recover your data from. Then click "Next" to enter your password or unique 48-digit recovery key. This software will automatically scan the encrypted drive after you have entered the 48-digit recovery key or password.
Step 3 You will see the found files once the scan is completed. Preview the found files to select the wanted files. If you have found your target files, tick them and then click the Recover button to get your missing data back. Now, you can access all of your files, videos, photos, and anything else if the recovery was successful.
Conclusion
BitLocker encryption is a great way to protect your sensitive data. As long as you keep the 48-digit recovery key or the right password in a safe location, you can easily access your BitLocker encrypted drive. Under this situation, when you succeed in opening your BitLocker drive only to find that the wanted files are lost, just use BitLocker recovery tools like iBoysoft BitLocker Recovery to help you restore your data. However, if you have forgotten your password or lost the recovery key, what you can do is learn how to unlock the BitLocker encrypted drive without a recovery key and password, or get in touch with data recovery experts.