Apple's iPhone 14 Pro and iPhone 14 Pro Max have a number of shiny new features, but the new Dynamic Island feature has been one of the main driving factors for staggering iPhone 14 Pro and Pro Max sales recently.
However, because many iPhone users are not aware of this feature, today in this post, we will discuss it in detail and also show how one can enable Dynamic Island on their respective iPhone 14 Pro and iPhone 14 Pro Max.
That being said, below is everything you need to know—
About the New Dynamic Island Feature of Apple's iPhone 14 Pro & Pro Max
Dynamic Island is one of the several new features introduced on the new generation of iPhones i.e., 14 Pro and 14 Pro Max.
Apple is calling it "the biggest change to the face of the iPhone screen." It further added, "however, the entire iPhone 14 lineup is not expected to sport the new front design. Dynamic Island is limited to the iPhone 14 Pro and iPhone 14 Pro Max only." To simply put, these two iPhone models from Apple get the dynamic island feature as an alternative to the notch while the other standard iPhone 14 model only gets the notch display.
If you're wondering why, it's because Apple has received a lot of backlash in the past with its decisions to put a notch on the iPhone.
While the notch at the top of the iPhone has been a familiar sight for the past several generations, it has wasted space in your screen, except for the TrueDepth front camera.
So, considering this and to make that space more usable, Apple not only redesigned the hardware into a pill-shaped cutout, but it also takes the game to a higher level by merging software magic to provide a more responsive and engaging interface to its users.
Basically, Apple blurs the lines between hardware and software by using Dynamic Island, which overlays a software pill over the display cutout so you can interact with it and view ongoing notifications and alerts instantly.
What Exactly is Dynamic Island?
As the name suggests, Dynamic Island is an 'island' located at the top of the device. It features a redesigned and 31 percent smaller TrueDepth front-facing camera and Face ID sensor to fit in the smaller pill cutout. Not only this, the proximity sensor has also been re-engineered to detect light from behind the display.
To cut a long story short, Apple turned the notch feature as an interactive pill-shaped cutout and called it Dynamic Island for the iPhone 14 Pro and iPhone 14 Pro Max.
What's So Special About the Dynamic Island?
By merging software with hardware and turning the dead black space into a rich active space for your notifications and background activity, Dynamic Island aims to give you a better, smoother and more intuitive experience when interacting with your iPhone.
Adding further, it uses transitions and uniquely crafted animations to create an illusion that the pill-shaped cutout fluidly changes and transforms into different sizes depending on the alert or activity.
Not only that, Dynamic Island can also display two background activities in different bubble elements.
What Can the Dynamic Island Feature Do?
IPhone 14 Pro & IPhone 14 Pro Max island display notification for AirDrop transfers, Apple Pay transactions, low battery warnings, privacy indicators and much more.
Also, it can reveal various background tasks, such as an incoming phone call, music being played, screen recording, SharePlay sessions, and Apple Maps directions.
On top of that, Dynamic Island also works with many third-party apps to display relevant information.
Now, here's a breakdown of the many functions this interactive ‌Dynamic Island‌ can fulfil—
Shows Notifications and Alerts

Dynamic Island is primarily designed to show you relevant alerts and notifications to stay updated. Not only that, it also allows you to perform various tasks by presenting relevant controls that work in the system.

What's even more commendable is that it all works without interrupting you from whatever you're doing in the app. Besides that, Dynamic Island's each alert has its own character and personality, making it easy for you to differentiate one from the other.

Some examples of notifications and alerts it displays:

Accessory connection
Charge status
Contactless transactions
Face ID identification
Incoming and current calls
Sound alert status
Gives Access to Controls

The Dynamic Island feature also gives you easy control access, so you can perform relevant actions without leaving the app you're using. For example, when you are on a call, it enables you to turn on the loudspeaker, adjust the volume or end the call, etc.
Displays Background Activity

In addition to providing access to controls, Dynamic Island also displays background activity going on your iPhone, such as the song you're currently listening to on Apple Music.
Keeps You Updated in Real-Time

Another cool thing about Dynamic Island is that it's always active, optimizing in real time, and updating you with important information, like the time remaining on the timer or the next direction on the map.
Apple Pay Transaction

Dynamic Island displays a rotating green image to indicate Face ID authentication when you make a purchase using Apple Pay and double-click the side button to confirm the transaction. And, when your face is authenticated and the purchase is complete, it changes the image to a green smiley face.
AirDrop Transfer

The dynamic island serves as a visual status indicator when you're using AirDrop. For example, there will be an AirDrop status indicator on the dynamic island when items are shared with you to confirm that files are transferred and when the transfer is complete, a checkmark will be displayed.
Privacy Indicators

Whether you know it or not, your iPhone displays a visual privacy indicator whenever an app or service is accessing your camera or microphone. So, those indicators, on the iPhone 14 Pro and Pro Max, appear in Dynamic Island.

That means, a green dot appears in the display when you open an app that can access your camera and an orange dot appears when you open an app that can access your microphone.
Apple Map Directions

If you're navigating with Apple Maps, you can return to the Home screen to see turn-by-turn directions in Dynamic Island. Then, you can press down on the display to show the next turn with the option to end the route. Other than this, if you want to open the Maps app in full screen, all you have to do is tap on the dynamic island.
Screen Recording

If you want to record your screen activity, Dynamic Island displays a Record button indicating that a screen capture is in progress. Then, you can tap or hold Dynamic Island to reveal a timer and a button to stop recording. Also, when you press the Stop button, the dynamic island display indicates that the recording was saved to your photo library.
Play Music and Audio

Last but not least, you can fire up a song, podcast episode, audiobook, or any other piece of audio and return to the home screen to let Dynamic Island show you a small icon of album art, artist and a volume scale. Additionally, you can press down on Dynamic Island to see a larger display with song name, album art, and artist, as well as controls to play, rewind, pause, change audio output and skip forward.
How To Activate Dynamic Island?
To test and activate Dynamic Island, what you need to do is use any app with supported background live activity that can be shown in Dynamic Island.
Instructions to Activate & Use Dynamic Island on iPhone 14 pro & iPhone 14 Pro Max Using a Supported App
Check out this step-by-step instruction guide as it will help you use a supported app to test Dynamic Island for verifying its functionality and activate it to use as intended on your respective iPhone 14 Pro or Pro Max.
Taking Example OF Clock App
Step 1: First of all, open the 'Clock app' on your iPhone.
Step 2: Then, tap on the 'Timer' option given at the bottom.
Step 3: After that, 'Set any Time' of your choice on your iPhone. To do this, swipe up on 'Numbers'.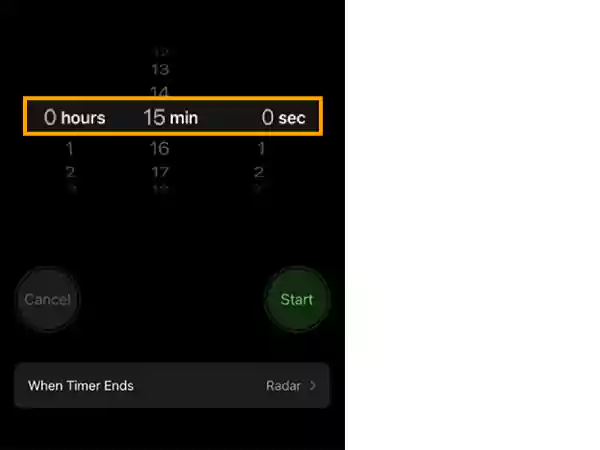 Step 4: Now, when you're done setting the timer, tap 'Start.' Doing so will start the timer on your iPhone 14 Pro or Pro Max.
Step 5: Next, swipe up from the bottom to 'Close' the Clock app on your iPhone.
Now, your timer should go on your dynamic island and you will be able to track it using the same.
To track use these dynamic island settings on iPhone 14 (Pro and Pro Max);
You have to tap and 'Hold' on your Dynamic Island. Doing so helps you see the larger widget for your timer.
You can tap on the 'Pause' icon to pause the timer.
You can also tap the 'X' icon from Dynamic Island directly to dismiss the current timer.
Similarly, you can use other supported apps to activate Dynamic Island on your iPhone 14 Pro or Pro Max.
Which Apps Use the Dynamic Island?
This section lists all those apps that currently support Dynamic Island. So, if you use any of these below-listed apps, you should be able to track background activities running on your respective iPhone 14 Pro or Pro Max using Dynamic Island.
List of Supported App
Apple Pay
Apple Music
Apple Maps
AirDrop
Apollo
Amazon Music
Audible
Battery levels and charging
Connected devices like AirPods
Clock
Focus
FaceTime
Flighty
Hit the Island
Lyft
NPR One
Overcast
Phone
Pandora
Shortcuts
SoundCloud
Spotify
Voice memos
Wallet
YouTube Music
Not only this, apart from these apps the following system alerts and background activities will also appear in Dynamic Island on your respective iPhone 14 Pro and Pro Max.
Confirmation for Apple Pay Transactions
AirPods connection and battery status
iPhone charging status
Low battery alert
File receiving using AirDrop
Switching between Silent mode and Ring
Toggling Airplane mode from Settings
Carkey locking/ unlocking
AirPlay Connections
Connecting accessories
Find My Network Alerts
Shortcut actions
Incoming calls
Face ID
Ongoing call durations
Mic and Camera indicators
NFC interactions
Silent Switch toggle
Media playback for music and podcasts
Active timers
Screen Recording
Low Battery Alerts
Voice Memo Recordings
Directions from Apple Maps
Personal Hotspot connections
Live Activity Sports scores &
Privacy indicators for camera and microphone that appears in the status bar
All these above listed system alerts and apps will appear in your dynamic island which should help you to activate and use it on your iPhone 14 Pro and Pro Max.
Notes
This is currently a small list of Apple apps that integrate with Dynamic Island, but it is sure to grow in the future.
Will Other Apps Also Support Dynamic Island?
Since this feature is fairly new and third-party app developers are getting accustomed to and using Dynamic Island; third party apps should start supporting Dynamic Island soon with future updates.
Bottom Line
That's all. Hope we have made it clear to you how you can use Dynamic Island, and what all it can do for enhancing your iPhone experience. However, if you have any doubts left, you can refer to the FAQ section below to clear all your confusions regarding Dynamic Island.
FAQs
Ans: Dynamic Island is the replacement for the notch feature that Apple introduced back in 2017.It is a pill-shaped cutout that can change shape and size to display alerts and notifications.Not only that, this new pill-shaped area on the iPhone accommodates the camera hardware, and also serves as the shape-changing hub for main iPhone alerts.Although it is reportedly coming to all iPhone 15 models, as of now, it is only available on the iPhone 14 Pro and iPhone 14 Pro Max.
Ans: If you wonder how you can enable and use Dynamic Island on the iPhone 14 Pro and iPhone 14 Pro Max, then know that those with the Pro model don't have to enable or configure anything for Dynamic Island to do its job. It activates automatically when your iPhone is unlocked and a supported activity is running.
Ans: While managing onscreen activities, there are two primary ways to interact with Dynamic Island and they are as follows;
Tap: With one tap you can instantly open the respective app for which Dynamic Island is displaying a status!
Long Press: With a long press you can expand to reveal the relevant controls for the app for which Dynamic Island is displaying a status.
Ans: To use Dynamic Island, you must press Dynamic Island to open the activity in a larger window in most cases. But, in some other cases, you need to tap Dynamic Island to launch the activity in a full-screen app. Also, you can swipe on it to expand or minimize the window.
Ans: There are many third-party apps that can display information and updates on the lock screen and Dynamic Island. However, to name a few, they include Google Maps, SmartGym, Steps, Pestle, Calzy, Carrot Weather, Flighty, Posture Pal, Sticky Timers and Countdowns, and TV Remote. Along with these apps, there are several other supported programs as well that work similarly to Apple's built-in offerings.
Ans: The dynamic island (which is the name of the area around the cut-out that houses the sensor and camera) can perform multiple functions. So, here is a list of the many functions that Dynamic Island can accomplish—
Background Activities:
Active timers
Live Activity sports scores
Personal Hotspot connection
Upcoming and turn-by-turn Maps directions
Incoming phone call and duration of call
Time remaining of playing song
SharePlay sessions
Screen Recording
Voice memo recordings
Display Outputs and Alerts:
AirPlay connections
Apple Pay transaction confirmations
AirDrop file transfers
AirPods connection status and battery life
iPhone charging status and battery life
Apple Watch unlocking
Privacy indicators when microphone or camera is in use
NFC interactions
Focus mode changes
Shortcut actions
Face ID unlocking
Carkey locking/unlocking
Find My alerts
Airplane mode/no data alerts
SIM card alerts
Accessories connect
Low battery alerts
Silent mode turned on or off
Live Activities:
Timer
Maps directions
Voice memos
Screen recording
Microphone indicator
Camera indicator
Personal hotspot
Ongoing call
SharePlay
Music/Now playing apps
Now Playing:
Amazon Music
NPR One
Overcast
SoundCloud
Spotify
Stitcher
Audible
Pandora
YouTube Music
CallKit:
Instagram
Skype
WhatsApp
Google Voice
Ans: The reason why the Dynamic Island only on iPhone 14 is that the standard iPhone 14 models retain the same notch and screen design as the iPhone 13. So, because only the iPhone 14 Pro and iPhone 14 Pro Max get the new pill-shaped cutout, therefore, Dynamic Island only on these iPhone 14 models.
Ans: No, because iPhone 13 Pro Max and other iPhone series including 12 Series, 11 Series and even iPhone 14 and 14 Plus lack the proper hardware that Apple has installed in iPhone 14 Pro and iPhone 14 Pro Max for users to activate Island feature.
Ans: No. Unfortunately, there's currently no way to turn off iPhone 14
Island because the black cutout is built into the iPhone hardware and its behavior is baked into iOS 16. However, if you're distracted by its animations, you can swipe left or right as the dynamic island animations appear, and they'll disappear briefly without affecting any related background activity.
Ans: While Apple's Dynamic Island will reportedly expand to all iPhone 15 models in 2023, the hype and always-on display will likely remain exclusive to Pros.
Ans: Since the dynamic island is supposed to aid multi-tasking by reducing the time spent switching between apps; one needs to remember that the only way to track timers, music, delivery and more is by either opening a dedicated app or using a dedicated widget. Well, because if you don't have any background activity running, your dynamic island will stay static and do nothing.
Therefore, it is likely that your Dynamic Island is not working because you have not used a supported app with background activity enabled to fully utilize Dynamic Island on your respective iPhone 14 Pro or Pro Max.
Ans: If you have updated your iPhone 14 Pro to Apple's latest and greatest software i.e. iOS 16.1, you will get an additional option to interact with the Dynamic island by swiping up on it. For example, let's say you have two apps open and active on the island, you can swipe toward the center of the screen to minimize one activity, or you can swipe up to completely hide everything on the island. Not only that, you can also swipe in from the edge of the screen to bring back any activity.
Ans: With the release of iOS 16.1 on October 24, Apple added more to the iPhone 14 Pro's Dynamic Island via a new feature called Live Activity (it's coming to all new iPhone models). Live Activities adds a live widget to the iPhone's lock screen that updates constantly. For example, apps like sports apps can use Live Activity to put game scores on your lock screen to update you about the score, or plays.